Two of our favorite fall fruits play nicely together in this fruit cake that's a great way to end a meal on a cool autumn evening. Be sure to use deep orange and fully ripened Hachiya persimmons; buy them when they feel like a soft tomato. You have to wait until the fruit is practically turning to mush before you can be sure it's ripe, but when it is ripe, it's rich and sweet like candy. Ask the farmer at your local market to point you to the right persimmon for your needs.
This is a fruit cake in the sense that it's almost as much fruit as cake, making it dense, moist, and sweet. I combined persimmons with apples because they taste great together and they are both in season this time of year, but feel free to try other types of fruit, adjusting the agave nectar as necessary. Persimmons are very sweet, so you may need a little more sweetener if your substitute, for say, bananas or mango.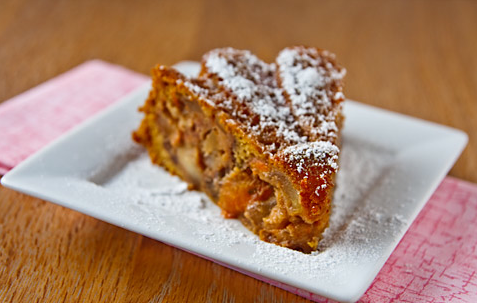 Fall Harvest Persimmon-Apple Cake
Servings: 6
Fruit:
3/4 cup ripe persimmon pulp
1 large apple
1/8 cup agave nectar
1/8 cup water
1/2 teaspoon cinnamon
1/4 teaspoon ginger
Cake:
1 1/2 cups white whole wheat flour
1 1/4 teaspoons baking soda
1/2 teaspoon salt
1/2 teaspoon cinnamon
1/2 cup water
1/4 cup orange juice
1/2 cup agave nectar
1 tablespoon cider vinegar
1/2 teaspoon vanilla extract
1/4 cup soy yogurt or apple sauce
Directions:
Preheat oven to 350F. Oil a 8 or 9-inch baking dish or cake pan. Remove the skin from the persimmons along with any seeds. Mash pulp and measure. Peel the apple and chop into 1/2-inch cubes.
Place the apple into a saucepan along with the 1/8 cup agave nectar, water, cinnamon, and ginger. Cook over medium-low heat, stirring, until the apple softens, about 10 minutes. Add the persimmon and set aside.
In a large bowl, combine the flour, baking soda, salt, and cinnamon. In a large measuring cup or small bowl, mix together the water, orange juice, 1/2 cup agave nectar, cider vinegar, and vanilla. Make a well in the center of the dry ingredients and add the wet ones along with the soy yogurt or apple sauce. Stir until well-moistened. Fold in apple mixture.
Pour into the prepared pan. Bake for 30-40 minutes, until a toothpick inserted in the middle comes out clean. Cool in the pan for at least 15 minutes before removing from pan. Sprinkle with powdered sugar before serving, if desired.