One of my all-time favorite holiday appetizers is this flaky and creamy baked brie with cranberry sauce. It's a simple, yet impressive appetizer that's a huge party favorite! Your guests will ooh and ahh over this melted, cheesy goodness, and you can even make it festive with a few seasonal cutouts on top – like fall leaves for Thanksgiving, and snowflakes or holly for Winter/Holiday parties.
With very little preparation and about 30 minutes of baking time, this indulgent appetizer is ready to serve. I have often made it with raspberry jam but I was inspired by the upcoming Thanksgiving holiday to use a bit of cranberry sauce & it's delicious!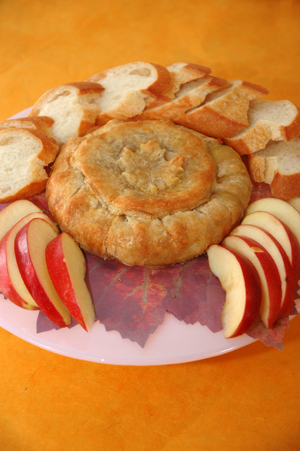 Cranberry Brie en Croute
Ingredients
1 8 oz can refrigerated crescent rolls
1 8 oz round Brie cheese
3 tablespoons whole berry cranberry sauce
1 tablespoon apricot preserves
1/2 teaspoon dried rosemary leaves, crushed (optional)
Directions:
Heat oven to 350°F. Unroll dough and separate crosswise into 2 sections. Press dough into 2 (7-inch) squares, firmly pressing perforations to seal.
Place cheese round on center of 1 dough square. (Do not remove rind from cheese.) In small bowl, mix cranberry sauce and preserves. Spread over top of cheese. Sprinkle with rosemary (optional).
Place remaining dough on top of cheese round. Press dough evenly around cheese, folding top edges over bottom edges; press to seal completely. Place on ungreased cookie sheet.
Bake 30 to 40 minutes until light golden brown. Remove from cookie sheet; place on serving plate. Let stand a few minutes before serving. Serve warm with pears, apples, crackers, or bread.