Not that long ago my mom hosted a tea party in my honor. She went all out for myself and a small group of friends.  There were several different teas to choose from served in beautiful teacups, each having its own back story.  And she made little sandwiches and scones and a delicious yet easy tiramisu that she found the recipe for in the back of one of her favorite mystery novels ("Scones & Bones" by Laura Childs – the fact that it came from the back of one of her favorite books make the dessert all that more adorable).
The other day she kindly helped me with the easy tiramisu recipe again and it was indeed easy tiramisu to make and it was again very tasty.
Recipe from Laura Childs' "Scones & Bones"
Ingredients:
1 can (14 fl. oz.) sweetened condensed milk

1 package (3.3 oz.) white chocolate instant pudding mix (we used melted white chocolate chips instead)

1 cup cold water

8 oz. cream cheese, softened

8 oz. whipped topping

1 cup fair trade chai tea

1/4 cup fair trade white peony tea

1/4 cup Kahlua

1 Sara Lee pound cake

1/4 cup unsweetened fair trade cocoa powder
Directions:
Combine the condensed milk, pudding mix (or melted white chocolate) and water then let chill for 30 minutes. When the mixture is chilled, beat in the cream cheese, then fold in the whipped topping. Combine the teas and Kahlua and reserve. Slice the pound cake into 1/2-inch slices and place one layer in a large glass bowl.  Add a layer of the tea mixture, then layer in the pudding mixture and add another layer.  Then sprinkle on some unsweetened cocoa. Repeat the layers, then cover and chill for at least 6 hours. Enjoy!
Have a great day, Dawn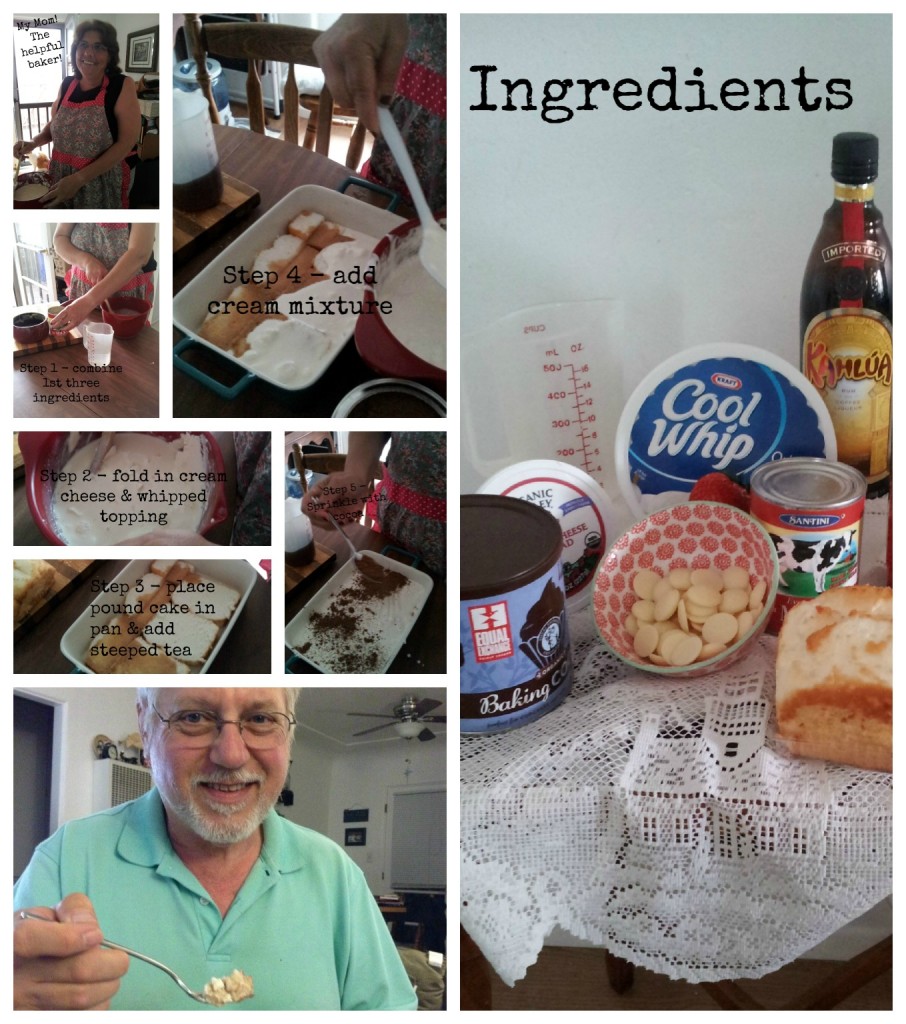 p.s. (Did you notice my mom's adorable Strawberry Shortcake Apron?)