The Chicago Cubs were beloved by my older brother and since I adored my older bother as a little girl (and as it turns out I still like him quite a lot now) I loved the Cubs too! As a teen living in Ohio I convinced my parents to take a friend and me to Chicago to see them play.  I fell in love with Wrigley Field and I fell in love with Chicago.  A few years later I left Ohio to attend college at Loyola University Chicago.
It was at Loyola that I first learned of fair trade in the late '90s and it was to Loyola that I returned this past weekend with my toddler son to see many dear college friends and to meet their many wonderful children.
While in Chicago I of course thought about fair trade, because let's be honest I think about it a lot, and because until recently Chicago was the second largest Fair Trade Town in the wold.  It was second only to London and has recently been out paced by Toronto.  Consequently fair trade is present in the city.
One of my favorite places to get fair trade items in Chicago is very near the North Shore Campus of Loyola at a place called the Heartland Cafe. The Heartland Cafe has the best cornbread and the best vegetarian food around and every time I visit the city I eat there.  They sell fair trade coffee and teas on the menu and in their little store.  And they had fair trade candy, chocolate, iced tea and they try to use fair trade ingredients in their dishes whenever possible.  Who wouldn't love it!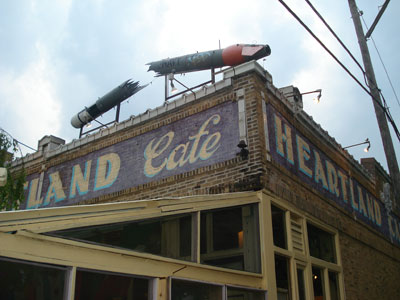 Chicago has many other opportunities to buy fair trade and for that I am so happy.  But the Heartland Cafe brings back so many happy memories of meals shared with friends and family over the years that I a still believe that the best place to buy fair trade in Chicago is at the Heartland Cafe! If you fid yourself in Chicago any time soon I suggest taking the Red Line on the L north to the Morris stop and sharing cornbread, the Heartland Burrito and a cup of fair trade coffee with a friend; it's totally worth it!
Have a wonderful day – Dawn