It's October and October is Fair Trade Month! And for Fair Trade Month I have committed to trying more fair trade products than I usually do.  I was trying to think about ways to have more fair trade in my life and then it occurred to me that I love wine and chocolate so why not think about pairing a couple of fair trade wine and fair trade chocolates together.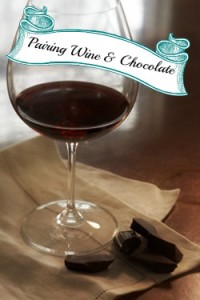 Full disclosure, I have had both of the wines and chocolates and have loved them all.  I didn't actually do the pairing; I was just sharing my musings and daydreams of doing a pairing with all of you!
The next question is how does one go about pairing the wine and chocolate.  Since I love red wine and most people I know also seem to enjoy red wine I decided to consider pairing two fair trade red wines and two fair trade chocolates together.  I received a little advice from the internet and then went from there.
I would suggest pairing Fairhills fair trade wine in Cabernet Sauvignon with Theo Chocolate's fair trade chocolate salted almond 70% dark chocolate.
 Next I thought about what might go well with a Pinot Noir, since I am a big fan of Pinot Noir, so I thought Stellar Organics' fair trade wine Pinotage would go well with Divine Chocolate's fair trade chocolate in milk chocolate.
These are just a few of my favorites.  Let me know your favorite pairs and if you pair these tell me your opinion too!
Enjoy – Dawn