Calling all chocolate addicts lovers. Be prepared to completely revolutionize your favorite chocolate indulgence! Yes I'm talking brownies. More specifically: The Best. Brownie. Ever. We've had a lot of requests for our favorite Nutty Fair Trade Chocolate & Coffee Brownie recipe, so here it is – indulge!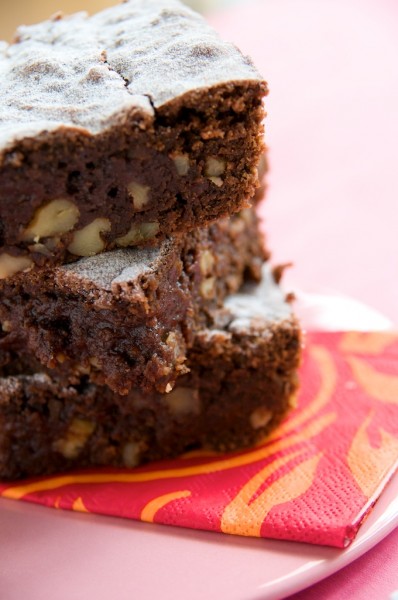 Brownie Ingredients
2 cups fair trade sugar
15 Tablespoons (2 sticks minus 1 Tablespoon) unsalted butter
3/4 cup fair trade cocoa powder
3 Tablespoons finely ground fair trade coffee
1/2 teaspoon salt
3 eggs
1 1/2 teaspoons vanilla extract
1 1/4 cups all-purpose flour
3/4 cup chopped pecans
Ganache Ingredients
1 cup or 6 ounces fair trade dark chocolate
6 tablespoons freshly brewed fair trade coffee
Method:
Preheat oven to 350F. Spray or wipe a 13 x 9 x 2 inch pan with oil.
Combine sugar, butter, cocoa, ground coffee, and salt in a large metal bowl. Place bowl over saucepan of simmering water and whisk until blended (texture will be grainy). Remove bowl from over heat; cool mixture to lukewarm if necessary. Whisk in eggs and vanilla. Sift flour over and fold in. Mix in pecans.
Spread batter in prepared pan, and bake until tester inserted into center comes out clean, about 25 minutes. Cool brownie in pan.
Place 6 oz. fair trade chocolate in small bowl. Bring brewed coffee to simmer in small saucepan; pour over chips and stir until melted and smooth. Let ganache stand until cool and begins to thicken, about 1 hour; spread evenly over brownies.
Makes 16 servings.