It's that time of year where the days are getting a little shorter, and it's getting a bit chillier, so I thought I would share one of my favorite recipes for vegetable stew. It's such an easy thing to make on those nights where you don't really feel like cooking, because you can just throw a couple of packages of frozen veggies, along with some pantry staples in the mix and it's basically done. I hope this soup keeps you warm on a chilly night! Enjoy!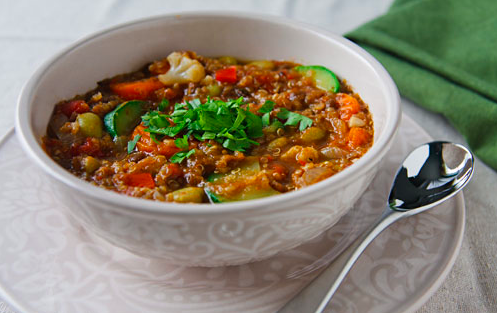 Lentil and Harvest Vegetable Stew
Servings: 6
Ingredients
1 large onion, chopped
4 cloves garlic cloves, minced
2 pounds fresh vegetables cut in bit-sized pieces (or 2 – 12oz packages of frozen veggies)
1 15-ounce can diced tomatoes, preferably fire-roasted
1 15-ounce can cooked lentils (or 1 1/2 cups cooked lentils and cooking liquid)
4 cups vegetable broth
1 1/4 teaspoon oregano
1/2 teaspoon smoked paprika
1/2 teaspoon ground cumin
1/3 cup quinoa, rinsed very well
2/3 cup pumpkin
salt and freshly ground black pepper to taste
Directions:
Cook the onion in a large, non-stick pan until it begins to brown. Add the garlic and cook, stirring, for another minute. Add next 7 ingredients and cook until vegetables thaw and broth begins to boil. Add quinoa and cook on medium heat until it is tender, about 15 minutes. Add pumpkin and salt and pepper to taste and cook for 5 more minutes, adding a little water if it seems too thick. Serve hot and enjoy.
*I used a frozen blend of zucchini, carrots, cauliflower, lima beans, red bell peppers, and Italian green beans, but any blend of chunky-cut vegetables will do.