With so many holiday parties coming up, I've been trying to think of something that would make a fun hostess gift. And since I know there will already be cookies, pie, and things of that nature, I came up with this delicious Homemade Pumpkin Butter.
This is super easy to make. I doubled the batch below so I could have some to enjoy myself. It will be fantastic spread onto pancakes, toast, or muffins! It could also be used to make an amazing Pumpkin Cheesecake. The possibilities are endless, and I plan to find them all. Note that I reduced the sugar by 1/3 of a cup as I didn't want it super sweet. You can adjust the sugar and seasonings to your own taste of course.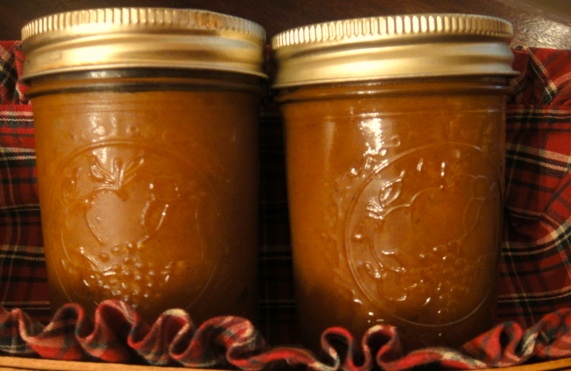 Homemade Pumpkin Butter

Ingredients:
1 (29 ounce) can pumpkin puree, approx. 3 1/2 cups or fresh
3/4 cup apple juice
1.5 teaspoons ground ginger
1/2 teaspoon ground cloves
1 1/3 cup brown sugar
1 tablespoon ground cinnamon
1/2 teaspoon ground nutmeg
Juice of half a lemon
Directions:
Combine pumpkin, apple juice, spices, and sugar in a large saucepan and stir well. Bring mixture to a boil. Reduce heat, and simmer for 30 minutes or until thickened. Cover with lid and stir frequently. Remove from heat. Adjust spices to taste. Stir in lemon juice, or more to taste. Once cool, pumpkin butter can be kept in an airtight container in the fridge. Makes enough to fill one large mason jar or about 3.5 cups.