March 13th marks Good Samaritan Day. On this day, and as we approach Easter, I am reminded of everything that I am blessed with, and begin to ask myself several questions: How can I serve others more? Am I doing everything I can to help people less fortunate than myself? Is there more I could be doing to make an impact on my community and my world?
I think the answer to these questions should always be a resounding, YES…I can do more to serve others. Can you imagine the positive impact our good deeds combined could have on our community and around the world? But what can we do?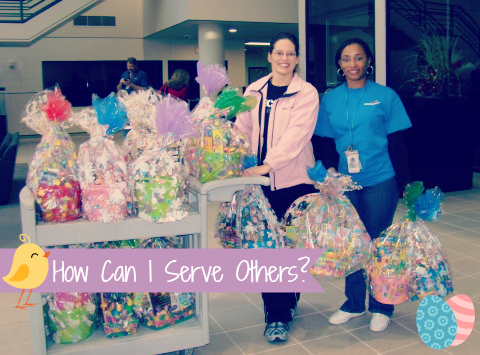 I have put together 5 simple tasks we can do to serve others over the next few weeks:
1. Food!
According to the National Retail Federation, "Approximately $16.8 billion was expected to be spent on Easter last year…the average amount spent by a person celebrating Easter was $145." Which is enough money to feed a family in the USA for a week…give the gift of food to those who are homeless, or families whose children are spending this Easter in the hospital. Deliver your holiday favorites to your local food bank, soup kitchen, or Ronald McDonald House. If you are not sure how to reach out to those in need, contact your church or synagogue – the paster should be able to connect you with a family that would love a hot Easter meal.
2. Easter baskets!
When I worked at the Ronald McDonald House in St. Louis, MO, one of my favorite things was getting Easter baskets ready for all of the children staying at the house. It was so fun to see the smiles on their faces Easter morning. Click here to view the Ronald McDonald House Charities of San Diego's 2013 Spring Wish List. Unfortunately, many children across the world do not have the blessing of hunting for Easter eggs or finding an Easter basket. On your trip to the store, pick up some extra toys and treats, and donate them to your local children's hospital or another organization you know that would appreciate the gift.
3. Think global!
Challenge yourself to purchase with a purpose – many of our every day purchases have fair trade alternatives that help support people in other countries that are in dire need of help. Even if you make the conscious effort to switch just ONE thing like buying fair trade chocolate for your Easter baskets this year, you would be making a huge difference for hundreds of cocoa farmers and their children. "Nearly 90% of people celebrating Easter will buy candy. With sales expected to reach $2 billion," – NRF. A similar amount would provide one year of school fees for 2.8 million children around the world.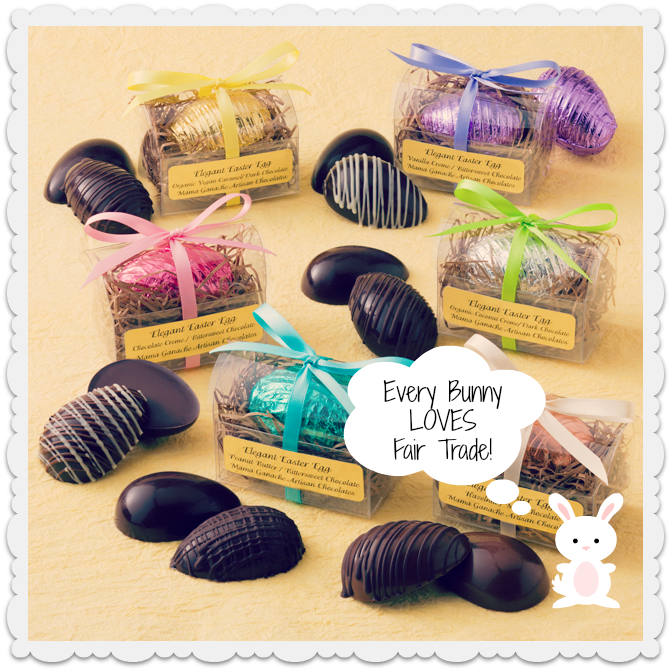 4. Volunteer in your community!
There are innumerable organizations out there that need help, and even more community service projects happening on a daily basis. Do your research, and look up ways you can get involved in your community that are of interest to you. There is a great search engine, http://www.volunteermatch.org, which specializes in matching you to volunteer projects in your area. I just did a search for "Easter" in San Diego, and discovered a service project at a nursing home in Encinitas – singing Irish & Easter songs to people with dementia. You can also search Google for your local food bank, animal shelter, or hospital for more volunteer opportunities.
5. Be thankful!
Be thankful in all things. Recognize the abundance you have and share your blessings with others. Give back what has been given to you whether it be in talents, gifts, or deeds. Maybe you are an extremely talented guitar player, or you had someone reach out a helping hand when you were in need. Recognizing those things and giving it back to the world is definitely a way that we can serve others.
I hope these ideas inspire you on this Good Samaritan Day and over the next few weeks. I look forward to reading your ideas on how to serve others in the comments.