It's only recently that I learned of the raw food movement.  It's not surprising that I am just learning about it, I'm usually late to learn about trends.  Though I have not jumped fully on the bandwagon of raw food I do support it and I find it intriguing.  The following fair trade recipe landed in my inbox a month or so ago and I've been meaning to make it ever since.  So I thought that I should try it for Tasty Tuesday.  It has a few fair trade ingredients and it seemed unusual in that it is raw but familiar at the same time.  It was very easy and I enjoyed the little snacks thoroughly!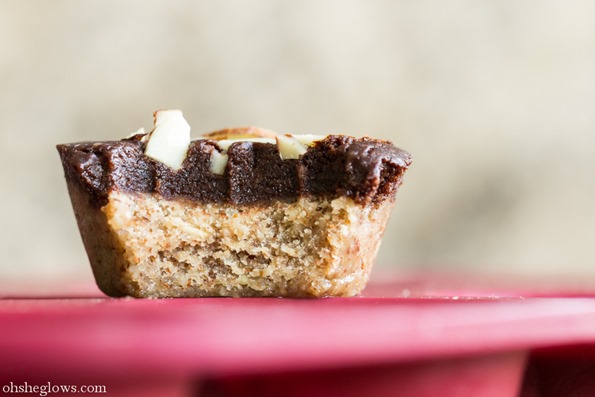 Ingredients – I used regular sized cupcake holders, making each snack larger!
for the base
3/4 cup raw almonds, ground into a meal
1/4 cup rolled oats, ground into a flour
2 tablespoons raw almond butter (or nut butter of choice)
1.5 tablespoons coconut oil, warmed if necessary
1.5 tablespoons pure maple syrup (or agave nectar)
1/4 teaspoon cinnamon
1/4 teaspoon pure vanilla extract
pinch of fine grain sea salt, to taste
for the topping
3 tablespoons Fair Trade coconut oil
3 tablespoons pure maple syrup (or 2 tbsp agave nectar)
2 tablespoons Fair Trade cocoa powder
pinch of fine grain sea salt, to taste
Instructions
1. Add almonds and oats into a high-speed blender (or food processor, which is what I used) and blend on high until a flour forms. Dump into a large bowl and break up any clumps with your fingers.
2. Add the nut butter, coconut oil, maple syrup (or agave), cinnamon, vanilla, and salt into the bowl. Stir until thoroughly combined. The dough should be fairly sticky like cookie dough.
3. Line a mini (or regular) muffin tin with paper liners or use a silicone muffin holder. Portion the dough into each muffin cup and press down until even and smooth.
4. To make the chocolate sauce: Whisk together the coconut oil, sweetener, cocoa powder, and salt until no clumps remain. Spoon the sauce over top each of the cups, distributing evenly. Garnish cups with sliced almonds if desired.
5. Place in the freezer in a flat area for 30-45 minutes, until firm. Pop out the cups & enjoy! Store leftovers in the freezer.