Fall! This is my most favorite time of the year. Well, actually October to January 1st is my most favorite time of the year.  I adore this time of year's holidays and I adore sweater weather.  In San Diego this is great sweater weather time even into January! Since this time of year seems best fit with comfort I would like to share some delicious comfort fall related fair trade recipes in the next several Tasty Tuesday posts.
This week I bring you some fair trade pumpkin bread with walnuts.  The recipe is a family favorite. I added walnuts because I had some extras left over from another recipe, plus I just really enjoy them.  And I used applesauce instead of eggs because I prefer not to use eggs when possible; it's just a personal preference.
Enjoy – Dawn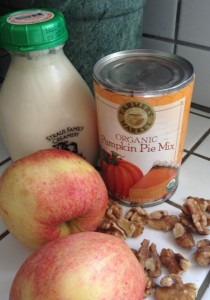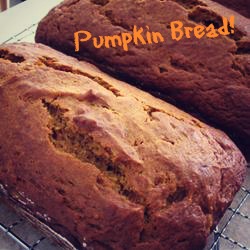 Fair Trade Pumpkin Bread Recipe (makes 3 loaves)
3 cups canned pumpkin puree
1.5 cups vegetable oil
4 cups fair trade sugar
1/4 cup applesauce (x6)
4 3/4 cups all purpose flour
1.5 teaspoons baking powder
1.5 teaspoons baking soda
1.5 teaspoons of salt
1.5 teaspoons ground cinnamon
1.5 teaspoons ground nutmeg
1.5 teaspoons ground cloves
1 cup of walnuts – this is what I had left from another recipe
Directions:
1. Preheat the oven to 350 degrees. Grease and flour three 9×5 inch loaf pans
2. In a large bowl mix together the pumpkin, oil, sugar, and eggs. Combing the flour, baking powder, baking soda, salt, cinnamon, nutmeg, cloves, and walnuts; stir into the pumpkin mixture until well blended.  Divide the batter evenly between the prepared pans.
3. Bake in preheated oven for 45 minutes to 1 hour.
Once your pumpkin bread has cooled pop it out of the pan and consider using our Modern Wood Cutting Board to cut it and serve it to your friends and family!