Cookie pancakes?!?! Doesn't that sound adorable?  My two year old son works well with bite sized things and these are the perfect size for him pick up with his fork (or his hands, though he is pretty much a master of the fork!)
Cookie pancakes are a fun idea but what's even more fun is how many fair trade items can be used in this recipe.  The bananas, vanilla extract and chocolate chips that the recipe calls for can all be fair trade! And I highly suggest real maple syrup over the other stuff; it really does taste better.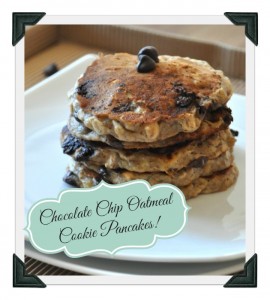 CHOCOLATE CHIP OATMEAL COOKIE PANCAKES
Serves: 5 pancakes
INGREDIENTS
1 very ripe medium banana
1 teaspoon baking powder
1 flax egg (1 Tbsp flaxseed meal + 2.5 Tbsp water)
pinch salt
1/2 teaspoon vanilla extract
1 Tablespoon almond butter
1 Tablespoon canola oil (or coconut oil)
3 Tablespoons almond milk (or sub other milk)
1/2 cup rolled oats (or gluten free oats)
1/4 cup whole wheat or unbleached flour (or sub other flour)
3 Tablespoons semisweet chocolate chips (non-dairy for vegan)
 INSTRUCTIONS
Preheat a skillet to medium heat or about 300-325 degrees.
Prepare flax egg by mixing flaxseed meal and water and letting set for 3-5 minutes.
Mash your very ripe banana with baking powder.
Add flax egg, oil, salt, vanilla, almond butter, almond milk and stir.
Stir in oats and flour until just combined.
Sprinkle in chocolate chips and fold gently.
Scoop scant 1/4 cup measurements onto lightly greased griddle.
Cook for 2-4 minutes on each side – until golden brown.
Serve plain or with a small drizzle of maple syrup and a few additional chocolate chips for melting.
NOTES
* Should yield 5-6 small pancakes. * Make gluten free by using gluten-free oats and flour. * Adding 1 Tablespoons of honey, maple syrup, sugar or agave nectar is optional for extra sweetening, but I didn't find it necessary. * Reheat great the following day in the microwave.
NUTRITION INFORMATION
Serving size: All 5 pancakes Calories: 760 Fat: 37 g Saturated fat: 7.8 g Carbohydrates: 96 gSugar: 28 g Fiber: 12.6 g Protein: 14 g
May we suggest wearing our Recycled Flour Sack Apron when making these cookie pancakes? If you do, please take a photo and send it to us!!!