Do you love Ben and Jerry's ice cream? I must admit that I really love it and Chubby Hubby has long been my favorite flavor – what doesn't sound good about fudge covered peanut butter filled pretzels in vanilla malt ice cream with fudge and peanut buttery swirls? During my college years I ate more Chubby Hubby ice cream than I care to admit.  That's why when I came across the following recipe for Chubby Hubby Cupcakes I was eager to make it!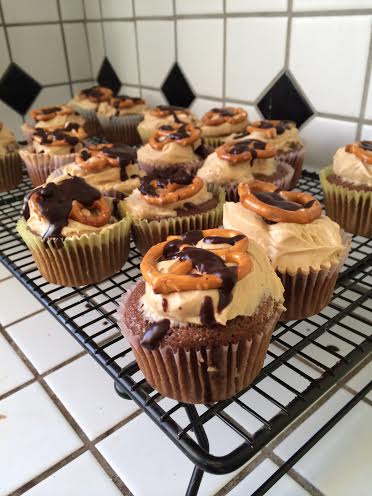 Annie's Eats: Chubby Hubby Cupcakes
INGREDIENTS
For the cupcakes:
3 cups cake flour
1 tbsp. baking powder
½ tsp. salt
2 sticks (1 cup) unsalted butter, at room temperature
1½ cups fair trade sugar
1 cup malted milk powder (I happened to use chocolate malted milk powder)
5 large eggs, at room temperature
1 tbsp. fair trade vanilla extract
1¼ cups buttermilk, at room temperature
For the filling:
8 oz. fair trade bittersweet chocolate, finely chopped
1 cup heavy cream
4 tbsp. unsalted butter, at room temperature
1½ cups coarsely chopped pretzels
For the frosting:
3 sticks (1½ cups) unsalted butter, at room temperature
1 cup creamy peanut butter
4½ cups fair trade confectioners' sugar, sifted
Pinch of coarse salt
2 tsp. fair trade vanilla extract
3 tbsp. heavy cream
To garnish: 
Mini pretzels drizzled with melted chocolate
DIRECTIONS
To make the cupcakes, preheat the oven to 350˚ F. Line cupcake pans with paper liners. In a medium bowl, combine the cake flour, baking powder, and salt. Whisk to blend and set aside. In the bowl of an electric mixer, beat the butter on medium-high speed until smooth, about 1 minute. Gradually add in the sugar, about ¼ cup at a time, mixing for 1 minute after each addition. Blend in the malted milk powder. Beat in the eggs one at a time, scraping down the bowl and mixing well after each addition. Beat in the vanilla. With the mixer on low speed, add the dry ingredients alternately with the buttermilk, beginning and ending with the dry ingredients and mixing each addition just until incorporated.
Divide the batter between the prepared liners. Bake until a toothpick inserted in the center comes out clean, about 18-20 minutes. Allow to cool in the pans 5-10 minutes, then transfer to a wire rack to cool completely.
To make the ganache, place the chopped chocolate in a heatproof bowl. Add the cream to a saucepan and bring to a simmer (or warm in the microwave). Remove from the heat and pour the hot cream over the chocolate; let stand 1-2 minutes. Whisk together until a smooth ganache forms. Whisk in the butter 1 tablespoon at a time until completely incorporated. Let stand at room temperature, whisking occasionally, until slightly thickened.
To fill the cupcakes, use the cone method to fill the cupcakes part way with ganache. Top off each ganache center with some of the chopped pretzel pieces (or a few pretzel M&Ms). (You don't need to replace the cake tops for these cupcakes but you can if you would like.)
To make the frosting, combine the butter and peanut butter in the bowl of an electric mixer. Beat on medium-high speed until smooth. Mix in the confectioners' sugar and salt. With the mixer on low speed, mix in the vanilla and cream just until incorporated. Increase the mixer speed to medium-high and whip until light and very fluffy, about 4 minutes. Transfer the frosting to a pastry bag fitted with a plain round tip (I cut put the frosting in a freezer bag and cut a corner without a tip; I think it would have been better with a tip but this actually worked out fine.) Pipe a swirl of frosting on top of each cupcake. Garnish with a chocolate drizzled pretzel.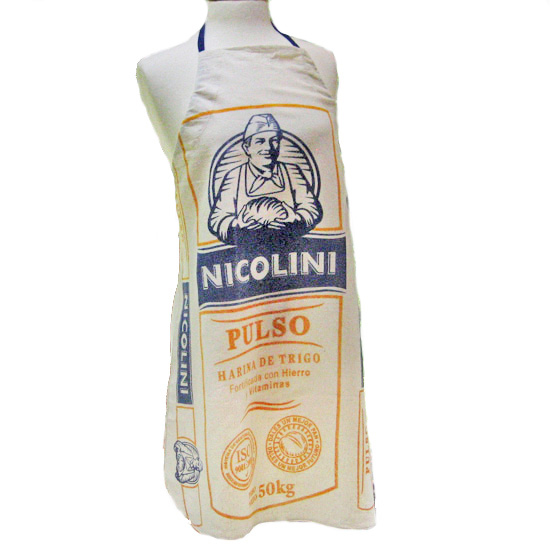 Enjoy and happy eating – Dawn
PS – These fair trade cupcakes really conjured up the essence of Ben & Jerry's Chubby Hubby ice cream!!! In my mom's words, 'they are to die for good'!