Well, Mother's Day comes every year, doesn't it? And somehow it always sneaks up on me. Inevitably, I'm scrambling around ordering flowers the day before. Or running to the store to buy ingredients for a special Mother's Day brunch—except, oops, everyone else had the same idea and they're fresh out of strawberries, OJ, and eggs. And I suddenly remember I'm a horrible cook. Well. Sorry, Mom.
Enter Seven Hopes United! We have beautiful, elegant gifts for a mama of any age and style. Whether she's a cook, decorator or fashionista, we have the perfect fair trade gift just waiting for her …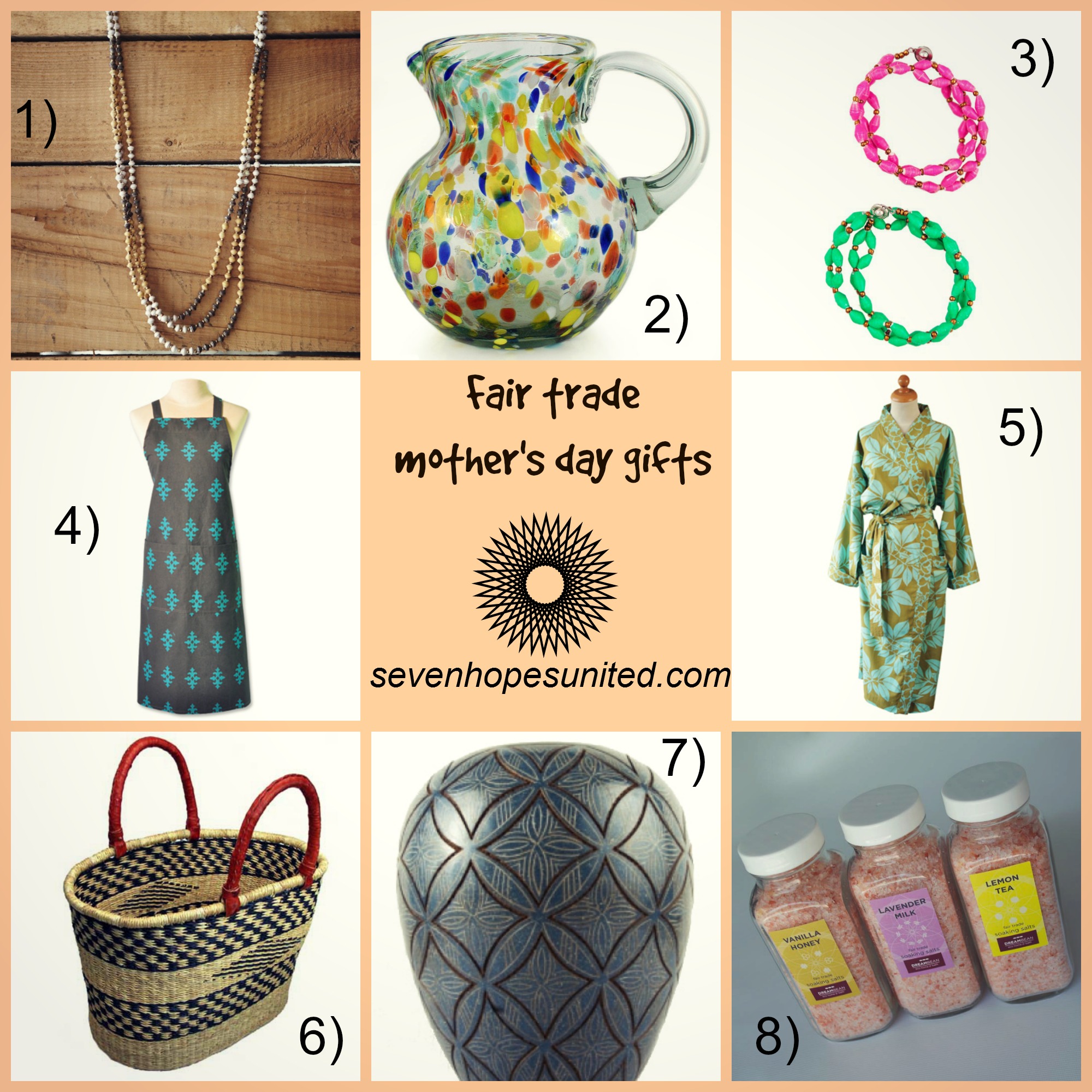 1. Honeyglow Necklace (Uganda)
2. Confetti Blown Glass Pitcher (Mexico)
3. 31BITS Guava Twist Bracelet (Uganda)
4. Javanese Jewel Apron (Indonesia)
5. River Kimono Robe (Indonesia)
6. Oval Bolga Basket ( Uganda)
7. Blue Diamond Vase (Nicaragua)
8. Dreamebean Bath Salts (Chicago)
As we think about Mother's Day, I also want to reflect on all the hard-working moms in other countries who are just trying to support their children like our own mothers. When you purchase your Mother's Day gifts from Seven Hopes United, you are helping make the day brighter for thousands of women across the world. Your dollars go directly toward helping these mothers earn a sustainable income to feed, support, and just plain have the energy to love their children.
What are you getting your mom this year? And if you're buying for Dad who has been like a mom instead, check out some of our fave guy fair trade gifts!
XO,
Casey