Halloween is right around the corner and you are probably gearing up for the big day by planning parties, buy costumes and picking up some chocolate to pass out to trick-or-treaters!
This year may we suggest making this a Fair Trade Halloween! Fair trade chocolate is a nice way of supporting a good cause while celebrating a very fun and spooky holiday!

NaturalCandyStore.com sells Fair Trade Candies!
And why not hand your candy out in style this year?!? Consider our very fun (and from a distance very skeletal looking) bowl.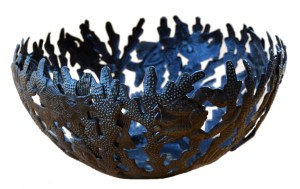 Haiti Metal Art – Coral Reef Bowl
Happy Halloween! Dawn