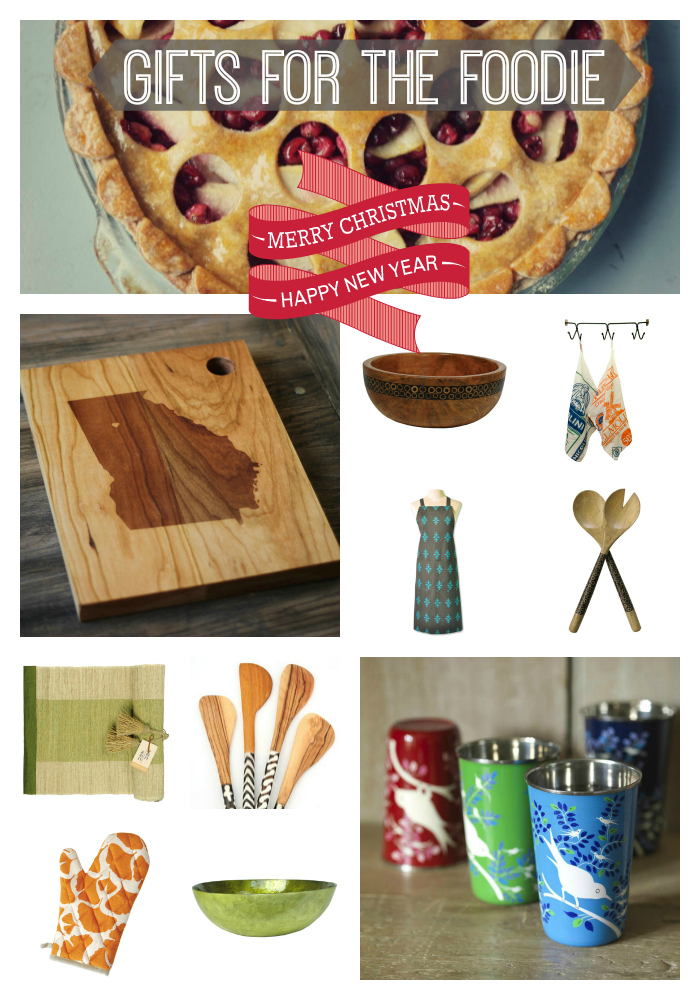 I hope that you all had a wonderful Thanksgiving! My husband and I are still in Wisconsin eating through our Thanksgiving leftovers as well as our weight in cheese. So this week I thought it would be fitting to share my favorite Gift Ideas For The Foodie.
Custom City State Wooden Cutting Board
Handmade in the USA. This Cutting Board is beyond cool & totally customizable – maybe your sister & her hubby just moved to Oregon and you want to give them something to celebrate their new roots, or you have a friend that recently traveled to Uganda on a missions trip… what a great gift to celebrate those special places!
Mango Wood Salad Bowl with Black Bamboo Inlay
Handmade in Bali. A handsome salad bowl that works with any table setting.
Recycled Flour Sack Towel
Handmade in Peru. A super fun gift for the baker – each towel is unique and features prints from recycled flour sacks.
Javanese Jewel Apron
Handmade in Bali. Available in a multitude of fun prints, these cotton aprons are heavy-duty and will withstand lots of use (and washing)!
Black Mango Wood & Bamboo Salad Servers
Handmade in Bali. Matching servers for our handsome bowl – buy the set, or mix-and-match in other colors for a fun & original gift.
Olive Stripe Vetiver Table Runner
Handmade in Bali. This earthy, scented table runner is a huge personal favorite – your friends and family will love that it's not only beautiful, but very unique. (And it's washable…so don't worry about giving it to someone with kiddos at the table).
Olivewood Spreader with Batik Handle
Handmade in Kenya. Our wooden serving pieces are a great gift for anyone. Guys are intrigued by the natural grains and craftsmanship of our tiny tea spoons and spreaders, and ladies love them for tea and hors d'oeuvres.
Ginkgo Orange Oven Mitt
Handmade in Bali. A super fun mitt any foodie would love. We have lots of other colors, so go crazy…mix-and-match!
Large Capiz Bowl Olive
Handmade in Bali. One of our most popular gifts – capiz bowls made from seashells in Bali. This is my favorite fruit bowl, and my go-to salad bowl when we have company over for dinner! Would be the perfect gift for someone who likes to entertain.
Eva Hand Painted Cups
Handmade in India. Another favorite! Your friends will love using these cups for water, tea, margaritas, toothbrushes, makeup brushes…you name it…we've heard it! Available in 8 colors – create your own gift set!