After the Earthquake: Rebuilding Haiti Through Fair Trade
At Seven Hopes United, we're extremely grateful to have so many friends, family, and supporters who are committed to Fair Trade and believe in the difference it can make around the world. Thank you to those of you that have been searching your hearts and asking for ways you can help with Tuesday's devastating earthquake near Port-au-Prince, Haiti. While the effects of the earthquake are still being assessed, we want to take a moment to focus on our Fair Trade partners in Haiti – to let them know they are in our thoughts and prayers, and we are committed to supporting them now and in the upcoming months as they struggle to rebuild all that has been lost.
Our partner in Haiti, Beyond Borders, has been a member of the Fair Trade Federation since 2007. The Fair Trade Cooperative employs artisans from all over the island of Haiti, including in the south near Port-au-Prince. By engaging in fair trade practices, Beyond Borders has provided equal opportunities for Haitian artisans, particularly the most disadvantaged. These artisans specialize in art made from 55 gallon oil barrels which they split open and flatten out as a large canvas. The artist first sketches out the design with chalk then cuts the steel using only a hammer and a nail. Each sculpture is made from recycled materials and provides us with beautiful hand made art. Through Fair Trade, these artisans now have access to international markets, using environmentally sustainable practices, and are able to earn higher wages for their goods – which translates into higher standards of living for the artisans and their families.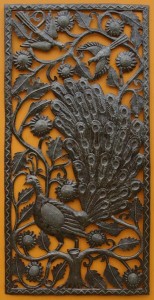 Since 1992, Beyond Borders, and other Fair Trade Cooperatives have provided an essential source of income for Haiti's poor families – more than tripling their non-fair trade incomes. This country has truly been a success story for Fair Trade, and during this difficult time will need our continued support. It's been reported that this is the worst earthquake to hit the area in more than 200 years. Entire communities have been ripped apart and as many as three million people have been directly affected. So when you are thinking of Haiti, think of their story, what they've overcome, and what it will take them to rebuild. It's more than infrastructure, it is life for so many people. In addition to supporting Haiti now, we urge you to help in rebuilding their lives in the following months by making a conscious effort to purchase Fair Trade products from Haiti.
Here are a number of wonderful ways that you can support Haitian relief efforts NOW:
World Vision
Save the Children
Oxfam America
Doctors Without Borders
One of the simplest ways to help is via your mobile phone. Donate $10 to the American Red Cross by texting HAITI to 90999, or $5 to Yele Haiti by texting YELE to 501501. The Donation amount will be charged to your cell phone bill.