I first tried this smooth, creamy punch at a friend's graduation party. It was so delicious I think everyone at the party asked for the recipe. Having a frosty glass of this mocha punch is almost like sipping a chocolate shake. It would be perfect for a family gathering or Christmas party. It's sure to be the first thing gone, so plan to have everything ready to make more!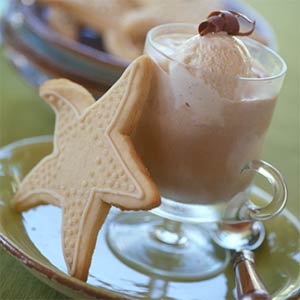 Mocha Punch
Servings: 20-25, Prep: 15 min. + chilling
Ingredients
6 cups chilled coffee
1/2 cup instant chocolate drink mix
1/2 cup sugar
1/2 gallon fair trade vanilla ice cream
1/2 gallon fair trade chocolate ice cream
1 cup heavy whipping cream, whipped
Fair Trade Chocolate curls, optional
Directions
Brew 6 cups of fair trade coffee. In a large saucepan or mixing bowl: Add coffee, drink mix, and sugar; stir until dissolved. Cover and refrigerate for 4 hours or overnight.
About 30 minutes before serving, pour mixture into a large punch bowl. Add Fair Trade ice cream (Ben & Jerry's) by scoopfuls; stir until partially melted.
Garnish with dollops of whipped cream and Fair Trade chocolate curls if desired.