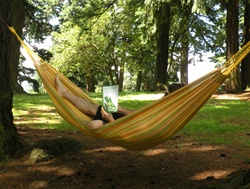 It's the 23rd of June and summer is officially in full swing. The sun is out! So, summer, sun…full swing. What better way to usher it all in than with our brand new hammocks from El Salvador. I don't know about you, but the thought of laying in a hammock on a warm day (or any day!) brings an instant smile to my face.
Lay back and relax in this hammock and enjoy the great story behind them. They are 100% cotton and from T-shirt production waste in El Salvador.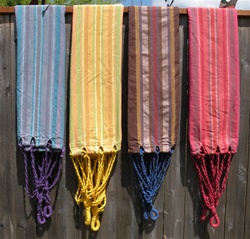 Using cotton trim pieces from a T-shirt factory that would normally be thrown away, the cotton is ground and re-spun into these beautiful striped hammocks. Recycled candle wax, gathered from local churches, is also used to lubricate the cotton for weaving. Employees are paid above standard wages and receive benefits, and safety precautions are taken to insure the welfare of all employees. Even the machinery used to spin and weave these hammocks was purchased used!
Available in four new, vibrant colors to help you celebrate in relaxation this summer: Cool Blues, Raspberry Red, Summer Yellow, and Sunset Orange!