This week's recipe comes from one of Seven Hopes United's biggest supporters, my Mom! She has always been my favorite cook & is an amazing baker – so we are in for a treat! For this week's "Tasty Tuesday" she sent over her recipe for one of my favorites: Delicious Banana Bread. Some of my favorite memories are of evenings when my mom would bake banana bread. Smelling the air infused with bananas and warm bread was intoxicating. And nothing can beat a thick slice slathered with soft butter. Divine. This bread is super moist, packed full of banana flavor, and best of all – it's my mom's recipe. Which makes it the best banana bread ever to me. I actually think the bread is better the second day. And the third. And the fourth…And it's the perfect thing to bake on a rainy fall afternoon like today.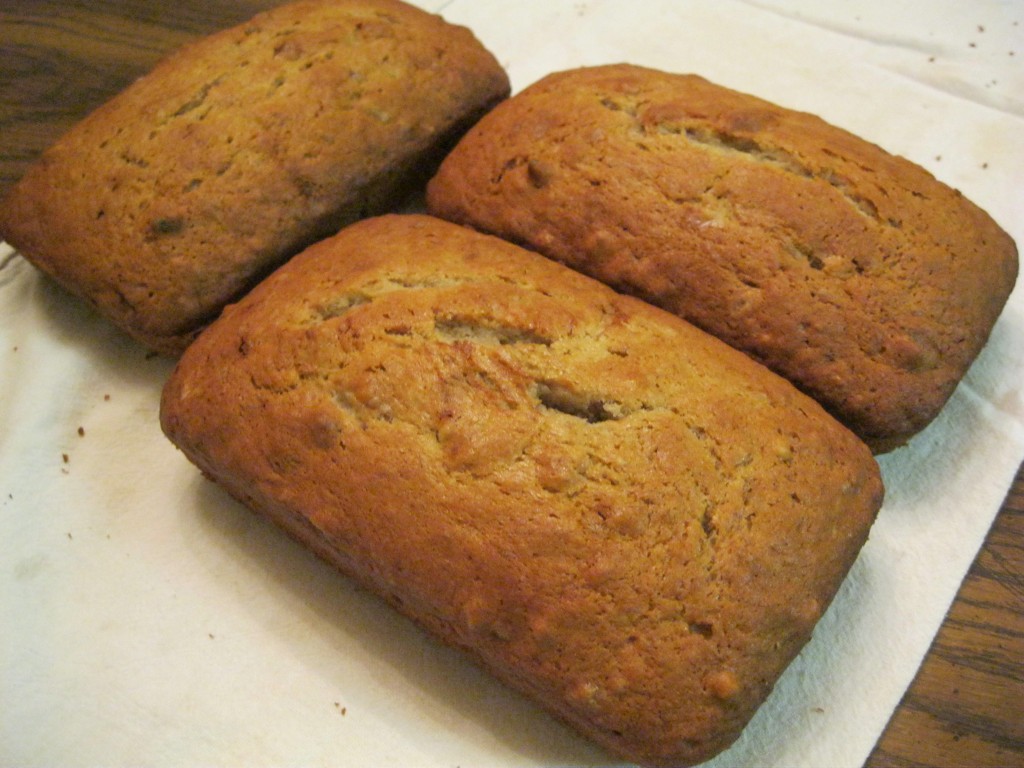 Ingredients:
3/4 cup Butter
1 1/2 cups White Sugar
1 1/2 cups Mashed Bananas (about 3)
2 eggs
1 teaspoon vanilla
2 cups Flour
1 teaspoon baking soda
2 teaspoons salt
1/2 cup sour milk
1/2 cup broken walnuts
Directions:
Cream butter, gradually add sugar, beat until mixed well.
Blend in mashed ripe bananas, 2 eggs, and 1 teaspoon vanilla. Add the flour, baking soda, and salt to the creamed mixture.
Add 1/2 cup sour milk (1/2 cup milk with 2 teaspoons lemon juice, let set a moment to curdle). Mix into batter until well combined, fold in 1/2 cup broken walnuts. Pour into greased and floured loaf pans. Bake at 350 degrees for 1 hour. Let cool a few minutes then turn out onto wooden board.
This banana bread with one of our beautiful fair trade aprons or oven mitts would make such a sweet gift! (hint hint) Please send any delicious recipes/photos (or homemade banana bread) you'd like to share to info@sevenhopesunited.com