Here it is…just as I promised! Another family favorite; I think I'm sensing a common theme here – "delicious" desserts! haha What can I say, we like our sweets.
"I've been told that this recipe became popular back in the 1970′s here in the Midwest. I was introduced to it when my husband and I were married in 1991, as this is his favorite dessert. His mom has always made it for each of the family gatherings and now she doesn't do as much of the baking and it has come to me to keep that tradition going. And I love it!" – Deanna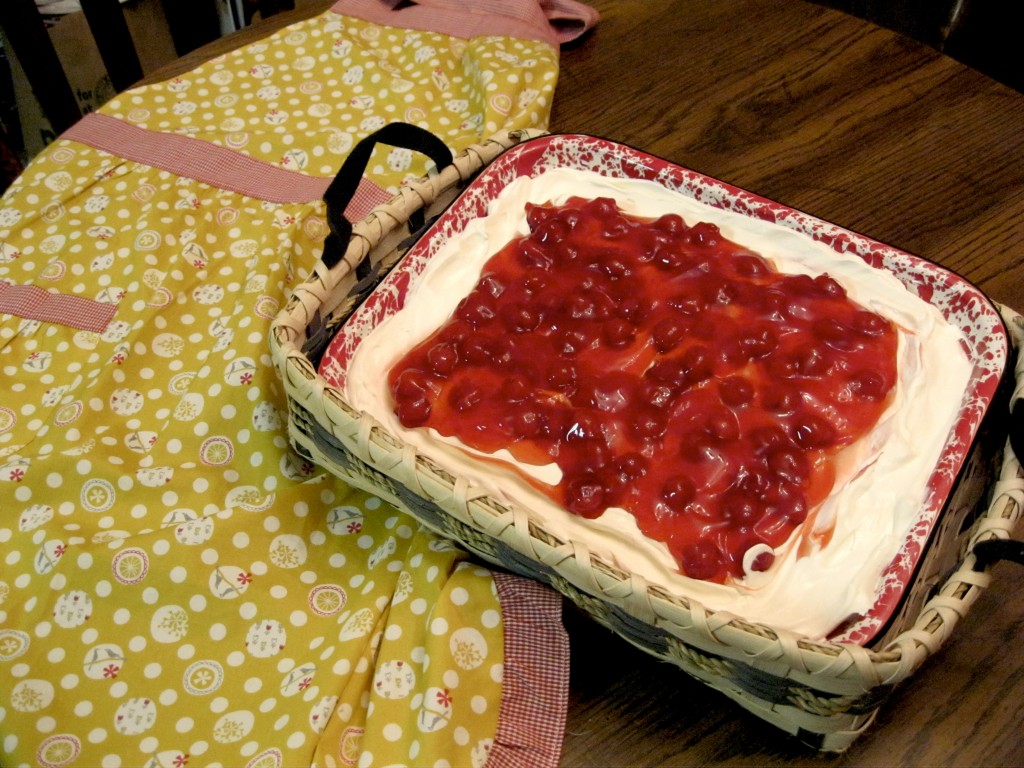 Delicious Dessert
(pictured here with my Mom's new Lucy Apron – Happy Birthday Mom!)
1/2 cup butter
1 8oz pkg cream cheese
1 8oz container of cool whip
2 small pkg instant pudding
1 cup flour
3/4 cup powdered sugar
2 1/2 cups milk
Crust:
1 cup flour and 1/2 cup butter, cream butter, add flour, mix well and press into greased 9×13 pan. Bake for 12 minutes at 325 degrees. Remove from oven and let cool. (You may also add 1/2 cup of finely chopped walnuts to this crust if you would like)
Cream: 1 8oz package cream cheese and 3/4 cup powder sugar, fold in 1 cup of cool whip. Spread on cooled crust.
Top with your favorite prepared instant pudding, I have used french vanilla here, but I've also made this with, chocolate, and pistachio. Use your imagination – I topped this one with some cherries & it turned out great. Spread the balance of the cool whip over top the pudding mixture. Store in the refrigerator until ready to serve.
*If you'd like to make this recipe a little lighter, it's also yummy with sugar free pudding & light cool whip. I hope you enjoy another one of our family favorites – I'd love to try some of yours! Shoot me an email at info@sevenhopesunited.com if you have a recipe to share
-Ashley