"Wedding Registry Wednesday" is easily becoming my favorite day of the week! I love seeing what other couples favorite fair trade products are! Today we have adorable Casey and Dave, who just so happen to be SoCal transplants like my husband and I! A big thanks to Casey and Dave for sharing their favorite picks, and if you are interested in having your favorite fair trade products featured, email me and I will give you more details (it is easy and painless, I promise)!
Dave and I live in sunny Southern California, where blue skies and bright colors abound. So we like to reflect that in our decorating style! We enjoy variety and a fun color palette and nothing too serious or complicated. When registering for items from Seven Hopes United, we chose practical items in fresh, fun patterns and textures. I love the variety of items at Seven Hopes and obviously the fair trade concept, which is what drew us to the site in the first place. When I began searching for "fair trade wedding gifts" on the Internet, I was pleasantly surprised to find Seven Hopes. I knew that most fair trade products were unique and beautiful, but I was especially in love with many of the items on the Seven Hopes site. Here are few of my favorites that we received from our registry. – Casey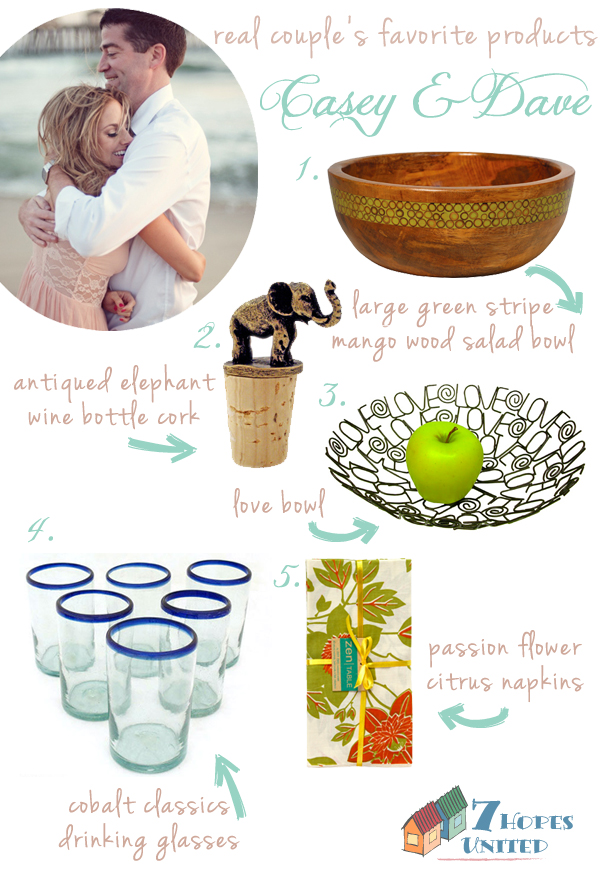 1) Large Green Stripe Mango Wood Salad Bowl
This bowl brightens up the table every night and, to be honest, makes salad more appealing! It's a beautiful design and makes dinner a bit more of an "event."
2) Antiqued Elephant Wine Bottle Cork
It's the little things that make me smile, and the elephant reminds me of our honeymoon in Thailand!
3) Love Bowl
Perfect for holding fruit or any type of cute table display. Solves that "what to put in the middle of the table" problem!
4) Cobalt Classics Drinking Glasses
These glasses are elegant but with a fun pop of color at the top.
5) Passion Flower Citrus Napkins
Love these for having friends over; they're perfect for a fun and laid-back dinner party!