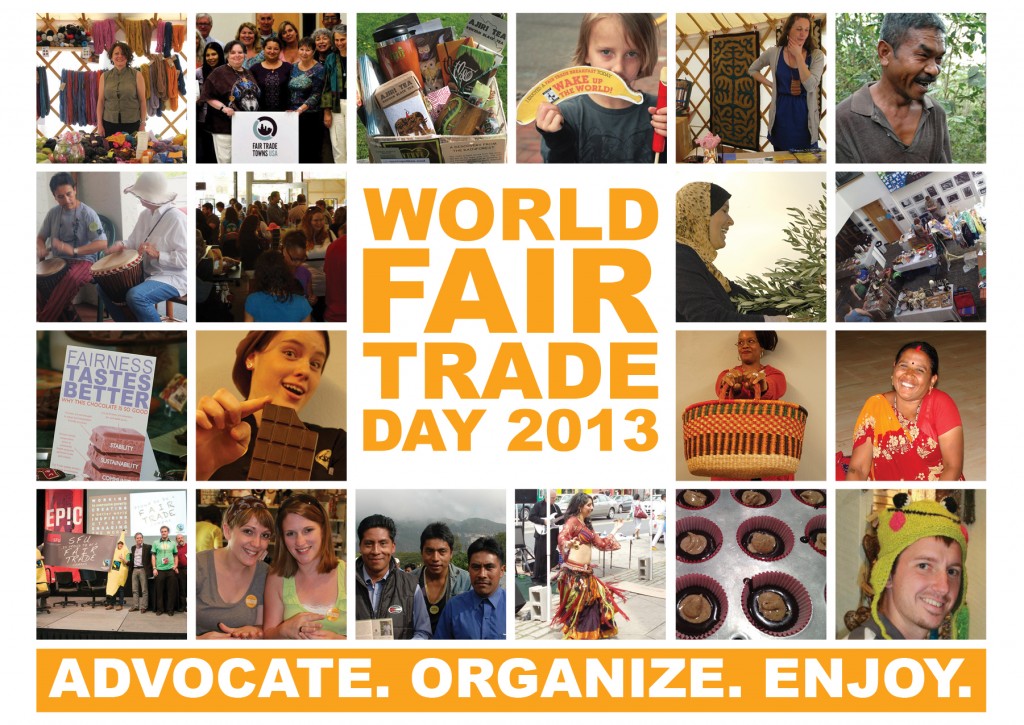 If you're new to the concept of fair trade but would love to learn more, you picked a good week to start your research! Fair trade is expanding rapidly across the world, helping talented artisans everywhere to achieve a sustainable income for their families and produce high quality consumer products.
Starting tomorrow, May 4, and running through May 19, approximately 100,000 people across North America will celebrate the impressive strides of fair trade in the past several years. They will campaign for justice alongside the farmers and artisans who make our consumption of fair trade goods possible.
World Fair Trade Day itself falls on May 11. To see how you can lend your voice and your resources to the cause, check out the official World Fair Trade Day Website. You can find events and volunteer opportunities all over the nation.
Seven Hopes United will be participating in a World Fair Trade Day event in La Mesa, California. Join us in La Mesa Village Saturday, May 11th, 2013 from 11:30am to 2:30pm to learn about fair trade & support local businesses and artisans.

LA MESA VILLAGE – 2 LOCATIONS
Gingham Restaurant – 8384 La Mesa Blvd.
Fair Trade Vendors: jewelry, scarves, handbags, baskets, home decor & more!
Samples of Fair Trade coffee, Ben & Jerry's ice cream
Recognition of La Mesa Fair Trade supporters & Declaration of La Mesa as a "Fair Trade Town" – 1pm
Raffle drawing for Fair Trade Gift Basket – 2:15pm
Sprouts Farmer's Market – 4630 Palm Ave.
Samples of fair trade products, Ben & Jerry's ice cream, and coffee from Cafe Virtuoso
A staggering fact is that If every American made just ONE Fair Trade purchase a year, it would lift ONE Million families out of poverty. Let that sink in a minute—then head to our website to do a little browsing! Mother's Day is coming up, and last year I bought my mom the previous version of this beautiful ceramic bowl: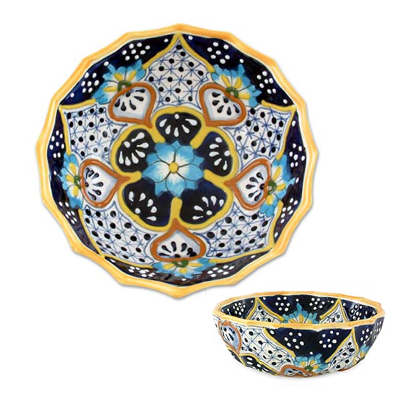 Hand painted crosshatch motifs emulate starlight in this enchanting bowl from Mexico. A beautiful deep cobalt blue design is finished with a ruffled border in sunny yellow by fair trade artisan Jorge Quevedo. Now, I'm just guessing, but I think most moms would appreciate a gorgeous handmade gift that truly gives back to other mothers across the world more than the usual bouquet of flowers!
And check back on the blog soon for more great Mother's Day gift ideas!
XO,
Casey