For this Tasty Tuesday I bring you, straight from The Smitten Kitchen Cookbook, fair trade chocolate and peanut butter sandwich cookies.
They are pretty easy to make and so so good. These cookies are a little time consuming though, but I say it is worth it! And a little shout out for the Smitten Kitchen because I really like her recipes and I find them creative, interesting and pretty easy to make, which is saying a lot because while I love to bake I don't really like to cook.  But her recipes make we want to do both!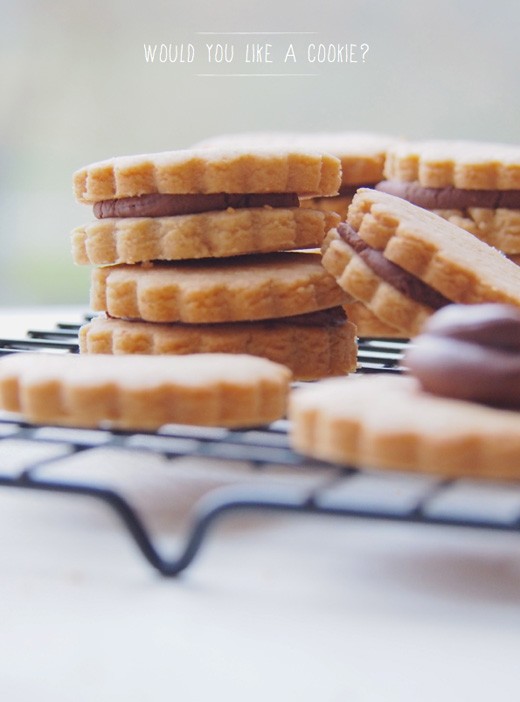 Fair Trade Chocolate and Peanut Butter Cookies
Cookie:
8 Tablespoons unsalted butter; at room temperature
(a little tip I learned from the Barefoot Contessa reagarding 'room temperature' leave the items out overnight to be sure they are at the correct temperture)
1 cup smooth peanut butter; at room temperature
1/2 cup granulated fair trade sugar
1/2 cup firmly packed fair trade light brown sugar
1 large egg
2 cups all purpose flour
1/4 teaspoon baking soda
1/4 fine sea salt
Filling:
8 ounces fair trade semisweet chocolate; coarsely chopped
3 tablespoons smooth peanut butter
2 tablespoons unsalted butter
Pince of salt
Make the cookies In the bowl of an electric mixer, beat the butter until it is light and fluffy, then add the peanut butter and beat until smoothly combined.  Add the sugars and beat until combined. Add the egg and beat until the batter is smooth.  In a medium bowl, whisk together the dry ingredients: flour, baking soda and salt. The dough will be thick and a bit crumbly. Divide the dough into two parts, placing each on a piece of plastic wrap. If you'd like to slice the cookies from a log, form each dough half into a 1 1/4 to 1 1/2 inch log that should be about 12 inches long. Wrap each log and freeze for 30 minutes, until firm. If you'd like to roll out the cookies, flatten the packets a little and place them in the fridge for at least an hour before rolling cookies out.
Preheat your oven to 350 degrees. Line two or three baking sheets with parchment paper.
To Slice Cookies Slice each log of frozen cookie dough into just shy of 1/4 inch slices. I like to hold the end of the log gently with two finger as I a slice the cookies, because they are so prone to breaking.
To Roll Out Cookies First, promise me you know what you are getting into. These cookies are crumbly and the dough, it will not want to be rolled out. It helps to let it warm up a little and use as little flour as possible. And again, accept that the dough will be crumbly and keep nudging it back together until the cutouts resemble cookies. The upside of all of this crumbliness is that the cookies hold their shape nicely in the oven.
Bake Cookies Transfer the formed cookies to prepared baking sheets with a thin spatula and bake for 10 to 12 minutes.  They should be a little puffed and faintly golden at the edges when they are finished.  Transfer the cookies to cooling rake and cool completely.
Make the Filling In the top of a double bolier or ina bowl set over simmering water, combine the chocolate, peanut butter, butter and a pinch of salt, whisking together until they are melted and smooth.  Let the mixture cool until it is thick but spreadable.  You can speed this process up in the fridge or by setting the bowl in another bowlof ice water, but for both methods, be sure to stir frequently so that it chill evenly.
Finish the Cookies Dollop half the cookies with about 1 teaspoon of chocolate peanut buttter filling each. You can do this with a butter knife or, if you wish to be more precise, you can use a pastry bag with a round tip, or a sandwich bag with the corner snipped off.  Place a second cookie over the chocolate mixture, and press the cookies gently together so that the filling approaches the edges.  Repeat with the remaining cookies. Let the cookies set until the chocolate is mostly firm.