When I have the chance to go to the movies, which isn't so often these days, I always get the same thing, buttered popcorn along with chocolate.  I love the combination of salty and sweet.  So when I heard about today's recipe I was on board!
Joy the Baker modified an already delicious sounding cookie that can be found in the Smitten Kitchen Cookbook: buttered popcorn cookies.  The addition of coarsely chopped dark fair trade chocolate makes for salty sweet goodness that is unbelievable.
Here's the recipe and enjoy.
Deb's Buttered Popcorn Chocolate Chip Cookies
makes 24 cookies
adapted slightly from The Smitten Kitchen Cookbook
2 tablespoon vegetable oil
1/4 cup yellow corn kernels
1/4 teaspoon salt
1 tablespoon unsalted butter, melted
1/2 cup unsalted butter, softened to room temperature
1/2 cup light brown sugar, packed
1/3 cup granulated sugar
1 large egg
1 teaspoon pure vanilla extract
1 1/4 cup all-purpose flour
1/2 teaspoon baking soda
1/4 teaspoon salt
1/2 cup coarsely chopped dark chocolate
(one large bar of fair trade chocolate fit the bill)
coarse sea salt for sprinkling
Let's make the popcorn first.  Place oil in the bottom of a medium saucepan.  Heat over medium heat.  When oil is hot, add corn kernels in a single layer across the bottom of the pan.  Cover the pot but keep the lid ajar to let a bit of steam out.  Listen to the popcorn as it pops.  Turn off the heat and remove the pan from the burner once the popping has subsided.  Sprinkle with salt and drizzle with butter.  Toss to coat all of the popcorn in a bit of butter.  Piece through the popcorn to remove any unpopped kernels.  Set aside to cool.  You'll have about 4 cups of popcorn.
Next we'll make the dough.  Place a rack in the center and upper third of the oven and preheat oven to 350 degrees F.  Line two baking sheets with parchment paper.  Set aside.
In the bowl of a stand mixer fitted with a paddle attachment, cream together butter, brown sugar, and granulated sugar.  Cream until butter is pale and fluffy, about 3 minutes.  Beat in egg and vanilla extract for one more minute.  Add the flour, baking soda, and salt and beat on low until just combined.  Remove the bowl from the stand mixer and use a spatula to fold in the popcorn.  It might seem like a disproportionate amount of popcorn considering the cookie batter.  Keep folding.  The popcorn will break down a bit as it's folded in.  Fold in dark chocolate.
Scoop dough by the heaping tablespoonful onto the prepared baking sheet.  Sprinkle the tops of the cookies with coarse sea salt.  Bake for 10 to 13 minutes or until the edges and tops are golden brown.  Remove from the oven, allow to rest on the baking sheet for 5 minutes then transfer to a cooling rack to cool completely.
Store cookies in an airtight container at room temperature.
PS – Would consider serving these truly amazing cookies in our lovely Teal Brilliance Wooden Serving Bowl – who says cookies should only be served on a plate?!?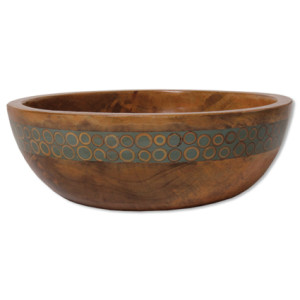 Teal Brilliance Wooden Serving Bowl