Allow me to let you in on a little secret: I love to bake but I can be lazy sometimes! On those days when I'm feeling a bit lazy, or crunched for time, I opt for a crisp.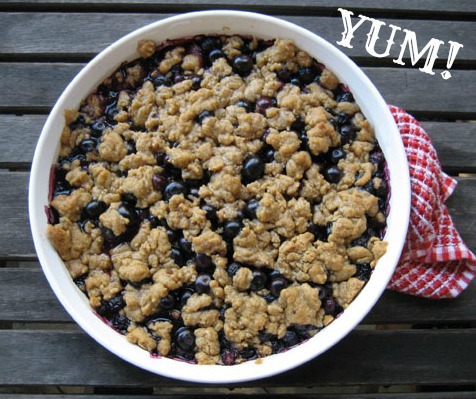 For this year's 4th of July I made a fair trade blueberry crisp for a family gathering.  It was quite good, if I do say so myself and quite easy! While I truly enjoy all parts of the crisp the crumble on top is my favorite part.  The crumble alone would taste good on ice cream.
The recipe I have been using for some time comes from Deborah Madison's "Vegetarian Cooking for Everyone". I used Wholesome Sweeteners Fair Trade brown sugar for both the fruit and topping recipes.
Fair Trade Blueberry Crisp! 
The Fruit 
About 4 cups blackberries
1 tablespoon flour
3 tablespoons white sugar or light brown sugar
1 teaspoon orange rind, finely grated
The Topping 
1/2 cup unbleached white flour
6 tablespoons light brown sugar
1/4 teaspoon cinnamon
1/8 teaspoon nutmeg
1/8 teaspoon salt
4 tablespoons unsalted butter
Preheat oven to 375 degrees. Sort through the berries and toss them with the flour, sugar and orange rind. Put them in an 8-inch glass pie pan or equivalent earthenware baking dish. Prepare the topping, combining the flour, sugar, cinnamon, nutmeg and salt. Cut the butter into small pieces; then work it into the flour with two knives or your fingers until the small pieces begin to hold together. Put topping over the berries. Bake until the top is lightly browned and the juices have risen around the edges, about 30 to 40 minutes.
Serve with cold thick cream or vanilla ice cream. Makes 4 servings.
Enjoy and have a great day! Dawn