How 'bout a recipe?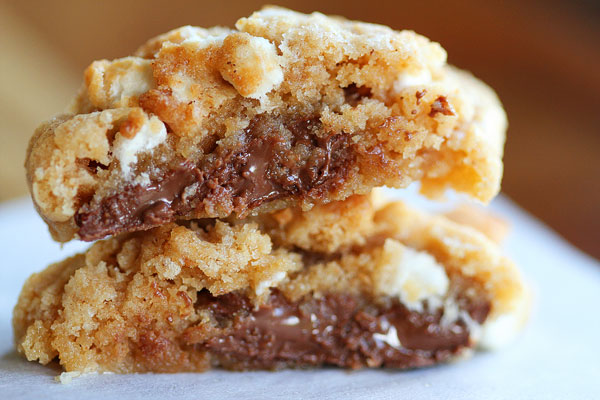 Summer just screams "s'mores," don't you think?
I know it's not Tuesday, but I don't think you'll get any complaints if you make these cookies over the weekend. These are chocolatey, gooey, and delicious. They're perfect for when you want a s'more but have better things to do than build a fire (or are fire-building-challenged, as the case seems to be with me). I made these last night since my family is coming into town, and I fear they may not make it through the day.
Recipe from Averie Cooks
Ingredients:
3/4 cup (1 1/2 sticks) unsalted butter, softened
3/4 cup light brown sugar, packed
1/4 cup granulated sugar
1 large egg
2 teaspoons vanilla extract
1 3/4 cups all-purpose flour
2 teaspoons cornstarch
1 teaspoon baking soda
pinch salt, optional and to taste
1 cup coarsely chopped graham crackers, about 2 full-size cracker sheets (I used boxed graham cracker crumbs)
2 cups (one 12-ounce bag) semi-sweet fair trade chocolate chips, such as Sunspire
1 1/4 cups Marshmallow Bits
Directions:
To the bowl of a stand mixer fitted with the paddle attachment, combine the butter, sugars, egg, vanilla, and beat on medium-high speed until well-creamed, light and fluffy, about 5 minutes (or use a hand mixer and beat for at least 7 minutes).
Stop, scrape down the sides of the bowl, and add the flour, cornstarch, baking soda, optional salt, and mix until just combined, about 1 minute.
Add the graham crackers, chocolate chips, marshmallows and beat momentarily to incorporate, less than 1 minute, or fold in by hand.
Form heaping two tablespoon mounds. Place mounds on a large plate, flatten mounds slightly with your palm, cover with plasticwrap, and refrigerate for at least 2 hours, or up to 5 days, before baking. Do not bake with warm dough because cookies will spread and bake thinner and flatter.
Preheat oven to 350F and line a baking sheet with parchment paper or a Silpat mat. Place mounds on baking sheet, spaced at least 2 inches apart. Bake for 8 minutes, or until edges have set and tops are just beginning to set, even if slightly undercooked, pale and glossy in the center. Do not bake longer than 9 minutes if you want soft, gooey Smores-like cookies because they firm up as they cool. Allow cookies to cool on the baking sheet for about 5 minutes before removing and transferring to a rack to finish cooling.
Making cookies using fair trade chocolate may seem like an insignificant way to help those living in third-world countries. But every fair trade purchase made is a step toward a stronger global economy. And each purchase, no matter how small, makes a difference in the lives of hard-working people just like you and me.
XO,
Casey