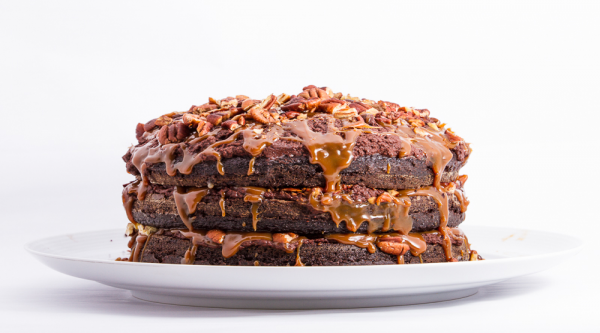 Need a new recipe for your weekend? How about a fair trade dessert? Remember, calories don't count on Saturdays.
Our friends at Fair Trade USA have cookied up a delicious-sounding turtle cake using fair trade ingredients, and it couldn't be prettier or sweeter. I can't wait to try it! It's perfect for the holidays and for any special occasion.
Fair Trade Turtle Cake (recipe and photo from Fair Trade USA)
Frosting Ingredients:
1/2 cup milk
6 tbsp. butter
3/4 cup caramel
1 1/2 cups toasted pecans
Preparation:
Preheat oven to 350 degrees. Grease 3 (9-inch) cake pans. Cover the bottom of each pan with a disk of parchment paper.
In a bowl, combine egg, oil, and buttermilk. In a separate (large) bowl, mix together the flour, sugar, cocoa, salt, and baking soda. Gradually add the wet ingredients to the dry until everything is well mixed. Gradually add in the hot coffee.
To bake the cake:
Scrape batter evenly into the three prepared pans and insert into oven. Bake for 25 to 30 minutes, or until a toothpick inserted into the center of each cake comes our clean. Let cake rest in pans for 10 minutes, then turn out onto wire racks to cool.To make the frosting:
Mix sugar and milk in a saucepan. Add butter. Bring to a boil mixture to a boil, then remove from heat. Add chocolate chips to the pan and mix until smooth using a wire whisk. If the frosting is too thick or grainy, add 1 or 2 teaspoons of hot coffee.
Assembly:
Place one cooled cake layer, top-side down, on your cake plate. Spread one third of your frosting on it, pushing out gently from the edges to make a petal effect. Sprinkle with ½ cup pecans and drizzle with ¼ cup caramel. Add next layer, again top-side down. Repeat frosting and sprinkle with ½ cup pecans and drizzle with ¼ cup caramel. Add final layer top-side up, frost with petal effect and finish with remaining pecans and caramel.
Sounds incredible, right? And if you need some fair trade kitchen items to round out the experience, I suggest baking in our beautiful new Javanese Jewel Apron. And you"ll need a serving plate of course! I reccomend this gorgeous piece from Mexico, the Talavera Ceramic Serving Plate.
Cheers to a delicious fair trade weekend!
XO,
Casey