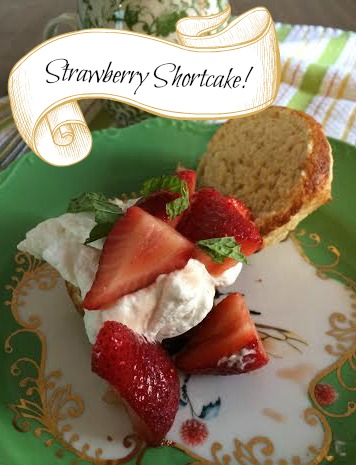 Here's a little taste of summer for you! Strawberry shortcake is a sweet and simple little treat that works for summer or any day that you can get strawberries from your grocery store or local farmers market.  This recipe is so easy you can whip it up before friends come over or you can have it for a tea party themed birthday party or even as a quick dessert after dinner one evening.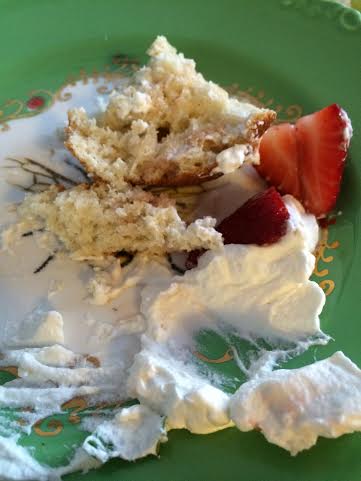 Strawberry Vanilla Shortcakes
What You Need
1 cup all-purpose flour
2 teaspoons baking powder
½ cup fair trade turbinado raw cane sugar
Pinch kosher salt
1 large egg
¾ cup low-fat Greek yogurt (I happened to only have strawberry flavored and it worked out fine.)
1 teaspoon fair trade vanilla extract
2 cups strawberries
1½ tablespoons fair trade sugar
1 teaspoon balsamic vinegar
Fresh mint
What To Do
Preheat the oven to 375°F.
In a medium bowl, combine the dry ingredients: 1 cup all-purpose flour, 2 teaspoons baking powder, ½ cup turbinado raw cane sugar, and one pinch kosher salt.
In a small bowl, combine the wet ingredients: 1 large egg, ¾ cup low-fat Greek yogurt, and 1 teaspoon vanilla extract.
Mix the wet ingredients into the dry ingredients. Spray with cooking spray or grease 6 cups of a muffin tin, then pour in the batter equally to the 6 cups (or 7 or 8, for slightly smaller cakes). Lightly spray the tops of the cakes, then bake for 15 to 20 minutes until the tops are lightly browned. Let stand in the muffin tin 1 minute, then remove to a wire rack to cool for 5 minutes.
While the cakes bake, wash 2 cups strawberries, and slice them into a medium bowl. Stir in 1½ tablespoons sugar and 1 teaspoon balsamic vinegar, then let stand until serving, stirring occasionally.
Make the whipped cream, using whipping cream or coconut milk.
Chiffonade the mint (following this video).
When ready to serve, cut the cakes in half. Spoon over strawberries, top with whipped cream and fresh mint, and top with the remaining half.
Happy Eating! Dawn