It's almost March! Do you know what that means? People start talking about their gardens, and I must admit here that I just cannot relate. I know not how to plant herbs or even how to keep a vase of flowers alive in my kitchen, if you want the truth. But for all of you passionate gardeners out there, I assume your basil and your tomatoes grow a little bigger and happier when your garden is pretty. Am I right?
So if you're preparing to spend some time harvesting and planting and digging around in the dirt this Spring, we can help make your backyard a pleasant place for it! Behold our lovely new collection of garden adornments: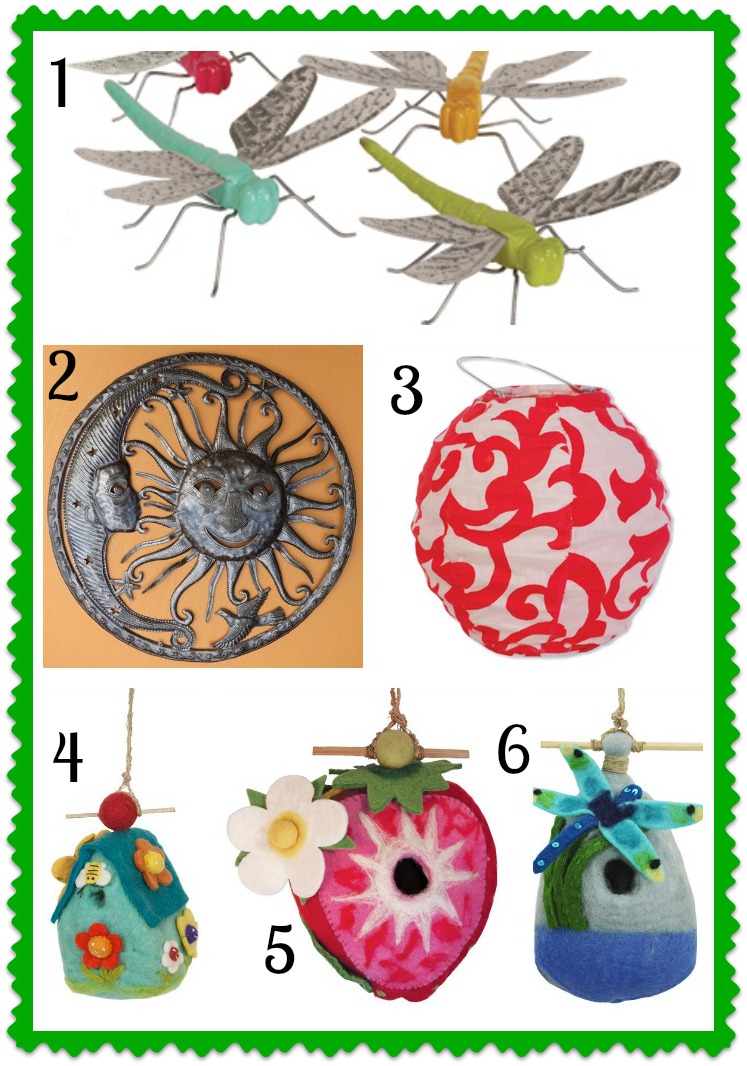 1. Garden Dragonflies: These adorable dragon flies are hand carved from a fast growing garden wood high in the mountains of Bali.
2.  Shining Sky Wall Art:  Handmade from a 55 gallon oil drum in Haiti, this gorgeous sculpture would be perfect above a rustic outdoor bench!
3. Red Mini Beehive Lantern: These cute little lanterns make the perfect decoration for any garden party, wedding or outdoor celebration.
4. Felt Flower House Birdhouse: Handcrafted in Nepal,  this snug little flower house will make your backyard birdies feel right at home.
5. Strawberry Felt Birdhouse : The 1.25″ diameter opening of this cutie is perfect for smaller birds like wrens, chickadees, titmice and others, or it can be enlarged for larger birds like bluebirds or swallows.
6. Big Dragonfly Felted Birdhouse: These whimsical houses are handcrafted by skilled fair trade artisans, and your purchase helps preserve cultural traditions. Fun and functional outside or inside!
Are you a garden dweller when the sun starts peeking out? You can find me admiring my pretty Seven Hopes backyard accessories from a lawn chair, lemonade in hand. I figure that's close enough.
Check out the rest of our garden collection right here!
XO,
Casey