Ah, wedding season. It's almost here, and as much fun as it is for brides, there's no point in pretending there isn't a bit of stress involved. Right, ladies? I'm sure my husband considered asking for the ring back when he witnessed my colossal meltdown over table settings (during which he had the good grace to remain absolutely silent).
Hopefully, if you're a summertime bride, you've already registered for your gifts the easy way right here on SevenHopesUnited.com. A fair trade wedding registry is the perfect way to give hope to developing nations while furnishing your first home as a married couple. And as for one of those other small "stressors"—what to give your bridesmaids as a thank-you gift—we can help with that too!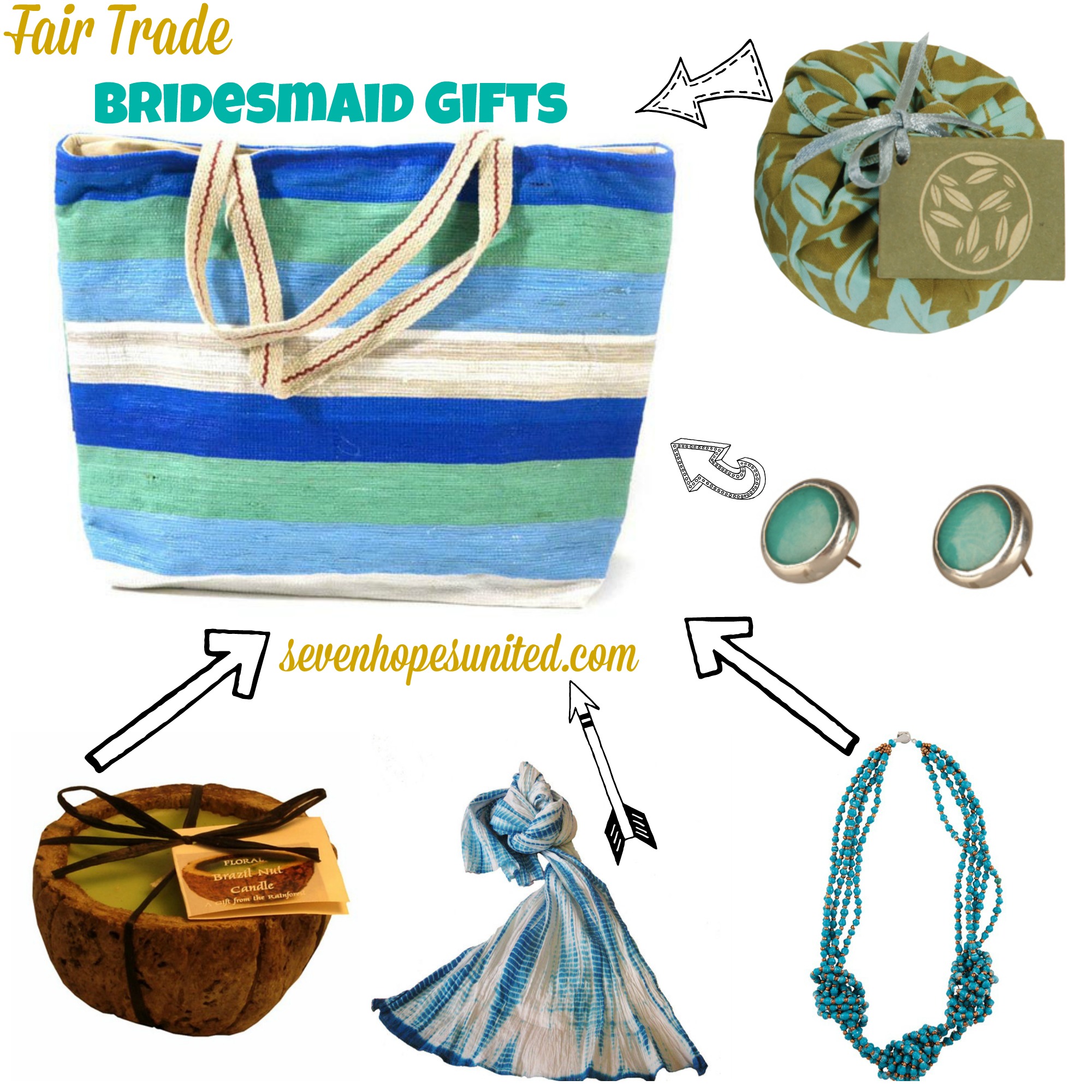 When I've been a bridesmaid in the past, I've always loved getting a "goodie bag" filled with fun items the bride handpicked. It's a thoughtful way to show your bridesmaids how much you appreciate them! Above, I selected our cheery Large Recycled Plastic Beach Tote to stuff with the surrounding items. From clockwise, we've got a sweet-smelling Batik Soap made in Bali; chic turquoise Tagua Nut Earrings handcrafted with sustainable materials from the rainforests of South America; our gorgeous 31BITS Rosette Necklace from Uganda; 100% cotton Shibori scarf woven in India; and a Peruvian eco-friendly Brazil Nut Candle. This gift bag would be especially perfect for a beach-themed wedding! And if you wanted to go ahead and have your girls wear the jewelry during your ceremony, how beautiful would the necklace and/or earrings be with a simple, flowing black or cream bridesmaid dress?
If you have several bridesmaids, you might want to consider any of our roomy bags stuffed with items to match your friend's personality for an even more personalized touch. You could create one for a cook, one for a wine lover, one for an artist, or anything else you can dream up!
For more details on how to register with us for your wedding gift registry and how it makes a difference, just click here. Thanks for considering making Seven Hopes United a part of your special day!
xo,
Casey