This classic Special K Bars Recipe is one of my Dad's favorites – a sweet indulgence for those special holidays & family get-togethers. In my family the holidays have always been about spending time with friends and family, and sharing our favorite holiday traditions. My mom starts baking the week before Christmas, wearing her favorite fair trade apron and oven mitts, to make sure we have everyone's favorite treats. It's definitely my favorite time of year, and I know it's not so much about the treats or the special holiday menus – but the memories we've created around them, so I wanted to share this recipe with you for Special K Bars. It's one that we make whenever my Dad's family gets together for Christmas, birthdays, or other special occassions.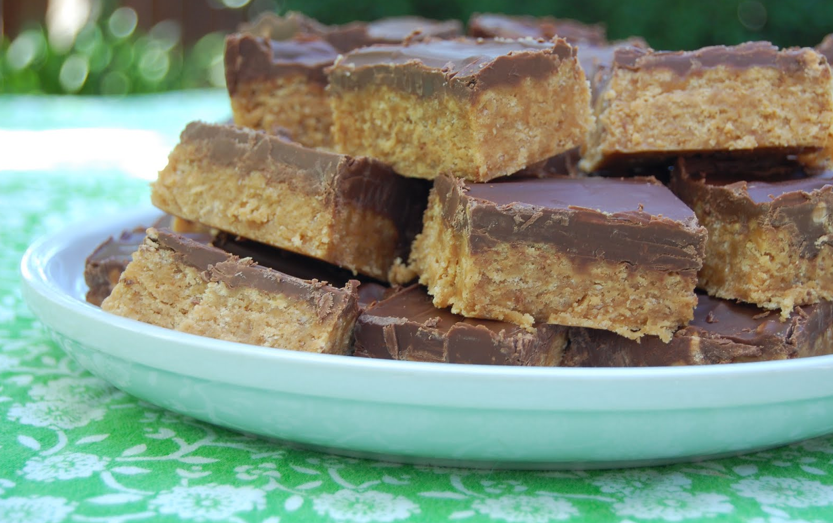 Special K Bars
Ingredients:
1 cup Sugar
1 cup Light Corn Syrup
1 pinch Salt
1 tsp. Vanilla
1 1/3 cups Peanut Butter
6 cups Special K cereal
1 pkg chocolate chips
1 pkg butterscotch chips
Directions:
In medium sauce pan – bring syrup, sugar, salt, and vanilla to a boil. Remove from heat. In a large bowl, pour the syrup mixture over the Special K cereal – stir to combine. Pat into 13×9 pan.
For the frosting, melt chocolate and butterscotch over low heat – stir constantly. Spread over top of the Special K mixture in the pan. Let it cool completely (you can cheat a little and put it in the fridge or freezer for a while.) Cut into small pieces and garnish with festive sprinkles of your choice.
Serve on a colorful and festive platter like this talavera serving plate & enjoy!