I am REALLY excited for today's post! For those of you that follow us on Facebook, you may remember me asking for any and all previous registrants to share their favorite fair trade products with us. Today is the first in a series of posts featuring real couple's favorite fair trade products. Obviously I have my favorites, but I know you all do too. Not to mention, we want to help future registrants with the overwhelming task of registering for gifts.
Jesse & Michael, a newlywed couple living in Maine so graciously volunteered to help us out. Not only did this beautiful couple look amazing on their wedding day, they have some great picks for us! A HUGE thanks to Jesse & Michael for participating. If you are a previous registrant, and are interested in having your favorite products featured, email me and I will give you more details (it's easy & painless, I promise)!
On May 6, 2012, almost four years to the day from when we first met, Mike and I married in Castine, Maine, on a rocky point with Grindle's Eddy swirling ahead of us in the harbor. Our wedding guests, along with friends and family, included four seals (drawn to the bagpiper perhaps), a Bald Eagle, a loon and three dogs.

Initially, we didn't want to register anywhere, but our families pointed out it was more for our guests than us. We were thrilled to find 7 Hopes United as an alternative to the usual big chain stores. The organization's mission reflects our commitment to the environment, to "giving back" and to supporting small businesses and artisans. It is now our top choice for purchasing wedding and other gifts, as well as items for our home.

We currently live in Maine, with no plans to leave. Mike is a marine systems engineer, I am a freelance journalist and communications consultant and our black lab/golden retriever mix, Alice, is a lovable, energetic menace to society. Our style is a blend of coastal living and country. As wooden boat sailors, we gravitate towards wooden pieces –even our wedding rings are made of wood– and soft, earth-tone colors.

- Jesse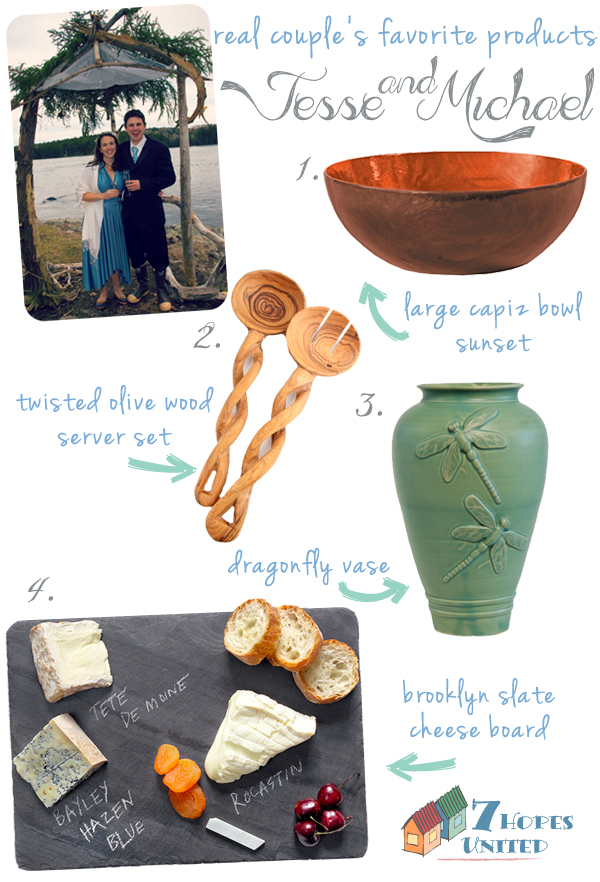 1) Large Capiz Bowl Sunset
We received these first two gifts as a set and love them – especially for salads! The deep red of the bowl is a gorgeous backdrop for greens and other veggies.
2) Twisted Olive Wood Server Set
The olive wood serving set is so unique and versatile. We get compliments every time we use them.
3) Dragonfly Vase
With the dragonflies as the centerpiece, this vase looks beautiful with or without flowers. I particularly love the light jade color as it happens to be my favorite shade of green.
4) Brooklyn Slate Cheese Board
This is one of our favorite items. We use it regularly when we have company to set out whatever new cheeses we are trying from the local co-op. With the soapstone chalk, you can label each cheese directly on the slate – or draw silly faces, depending on your mood.