Today's couple is dear to our hearts. Kelly and Michael are two of Seven Hopes United's biggest supporters. We met this lovely couple at the farmers market in Rancho Santa Fe, in northern San Diego. Kelly fell in love with our products the first time she saw them, and we were so honored to be included in their wedding. Thank you Kelly and Michael for sharing your favorite fair trade products with us, and for your continued support for fair trade.
If you are interested in having your favorite fair trade products featured, email me and I will give you more details (it is easy and painless, I promise)!
Michael and I love to travel. Our experiences living, working, and traveling in Europe and beyond opened our eyes to the world around us. I was an exchange student in France in high school and college. Michael worked and lived in a suburb of London for two years. I also spent one month living with Japanese family friends in a suburb of Tokyo called Kichijoji.

I discovered Seven Hopes United at the Rancho Santa Fe Farmers Market about 2 years ago. Ashleigh is a great person and I loved the sometimes rustic, always beautiful handmade artistry of all of the Fair Trade items. The linens, aprons, and especially the wooden pieces have always been favorites.

Michael and I were  thrilled to find out that Seven Hopes United had a wedding registry, and were very happy to have them be a part of our wedding. I LOVE LOVE Seven Hopes United's products. Michael and I felt good about supporting the Fair Trade value system by registering with Seven Hopes United for our wedding. We are more mindful of the Fair Trade movement thanks to Ashleigh and Seven Hopes United. We now go out of our way to buy Fair Trade products whenever possible.

-Kelly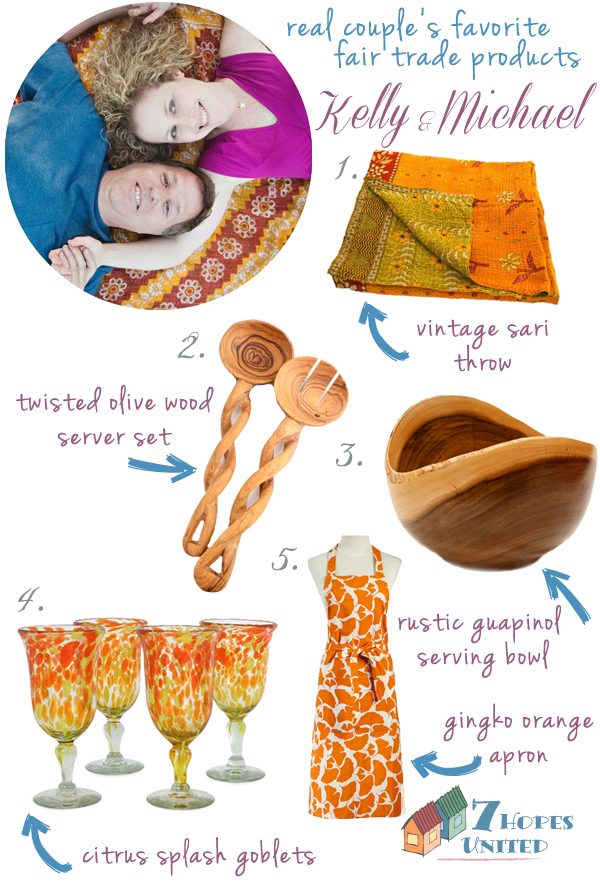 1) Vintage Sari Throw (See their engagement photo above!)
We bought a vintage sari throw specifically for our Engagement photo shoot. One of our favorite Engagement photos by Bethann Greenberg Photography has us lying on the blanket. I use the sari throw around the house to keep warm and keep it on my futon in my Craft Room (my special place).
2) Twisted Olive Wood Server Set
These are hanging on the wall in our kitchen/dining area. They are too beautiful to store in a drawer!
3) Rustic Guapinol Serving Bowl (Sorry, no longer available)
Bought for us by my "French exchange family." I stayed with a French family for the summer after my sophomore year of high school. My French exchange family came to our wedding (we were so excited to see the two of them…) The bowl is currently on our kitchen table.
4) Citrus Splash Goblets
I love the colorful yellow & orange blown glass goblets, they too are on display in our bay window.
5) Gingko Orange Apron
I have 2 aprons from Seven Hopes United that I LOVE (the orange Gingko apron and my current Fav, the Kenzie Apron…love love my Kenzie apron! It fits to perfection!)